WHAT TO EXPECT WHEN YOU ORDER YOUR WEDDING DRESS
   What to expect when your order your wedding dress
Our step by step guide, walking brides through the process of ordering their wedding gown.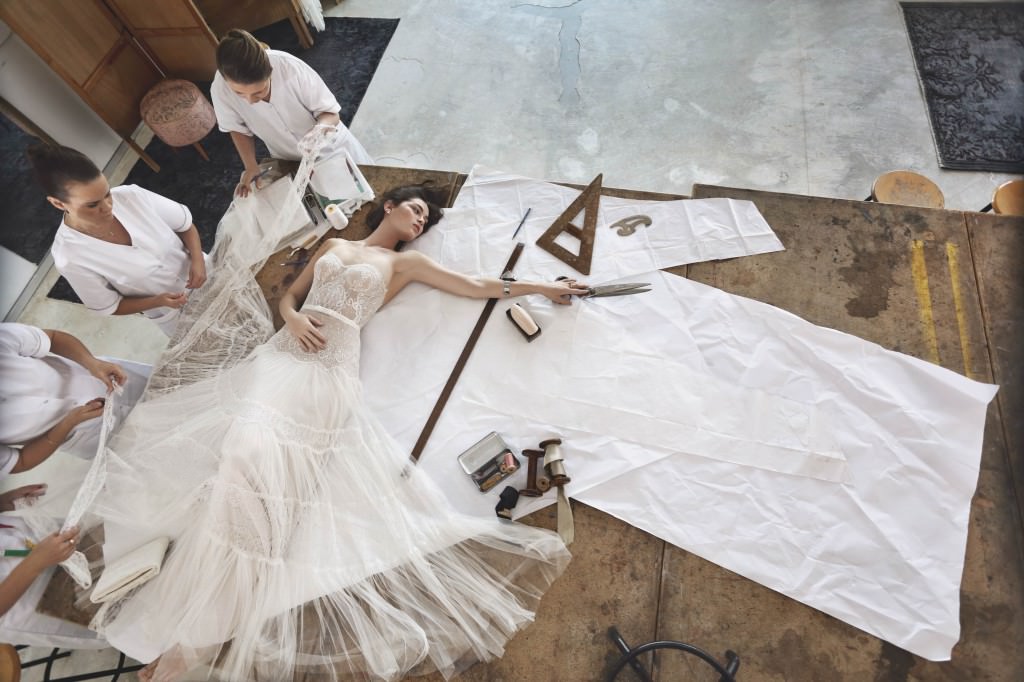 1. Be sure it's THE one.
First thing is first, when it comes to committing to a wedding dress, be sure that you are head over heels in love with it. A bride may find herself going to multiple shops to find "the one", whereas another bride may find her gown in the first shop she goes to. Regardless of how many shops are involved, finding the gown is definitely a process – so when it comes to deciding on your wedding dress – be sure you have seen everything you want to see before making your ultimate decision.
2. Measurements
Congratulations! You have made the decision and found your wedding dress, now its time for it to be made. Some designers will need less than 10 measurements to create your gown, others may require more. Designers who design their dresses "made to measure" may need as many as 30 measurements to create your wedding gown. Depending on which designer your dress is by, different measurements will need to be taken accordingly and this will be done by one of our in-house seamstresses. To ensure a perfect fit, seamstresses will measure as close to the body as possible, and most measurements are done in underwear get the closest measurement possible.
3. Deposit
Along with the measurements, a deposit will be required for your order to be sent off to the designer. Most shops require a 50% deposit and will not expect the total of your gown to be paid in full. The remaining 50% balance will be paid at a later date, when your dress arrives in store and tends to be paid on the first fitting.
4. The Waiting Game
Once the measurements have been taken and the deposit has been paid – the rest of the work is up to us and the waiting game begins. Most wedding dresses tend to take between 6-8 months to make, depending on the designer. Brides on a shorter time frame can still have a dress made, however this usually incurs a "rush fee" which can vary between 10-20%. Eventually you will receive the exciting call from us to let you know your dress has arrived, which is usually 6-8 weeks before your wedding date as this allows plenty of time for fittings.
5. Fittings
You know what the dress you ordered looks like however nothing beats that moment where you put your actual gown on. Despite having been measured for your dress – you dress will always require a tweak here or there and their tends to be two or three fittings required, the first fitting being the most important.  You will have an appointment booked with one of our in-house seamstresses who will be with you for each of your fittings to come. The most important thing to bring with you to your first fitting is the shoes you will be wearing on your big day, these will ensure the seamstress can cut the gown to the perfect length, and don't forget to bring the underwear you plan on wearing on the day! Brides are welcome to bring along close relatives or friends who they wish to share this special moment with and we'll make sure there's a glass of bubbles for everyone, along with a tissue or two!