Browns Bride Real Bride – Megan & Ciarán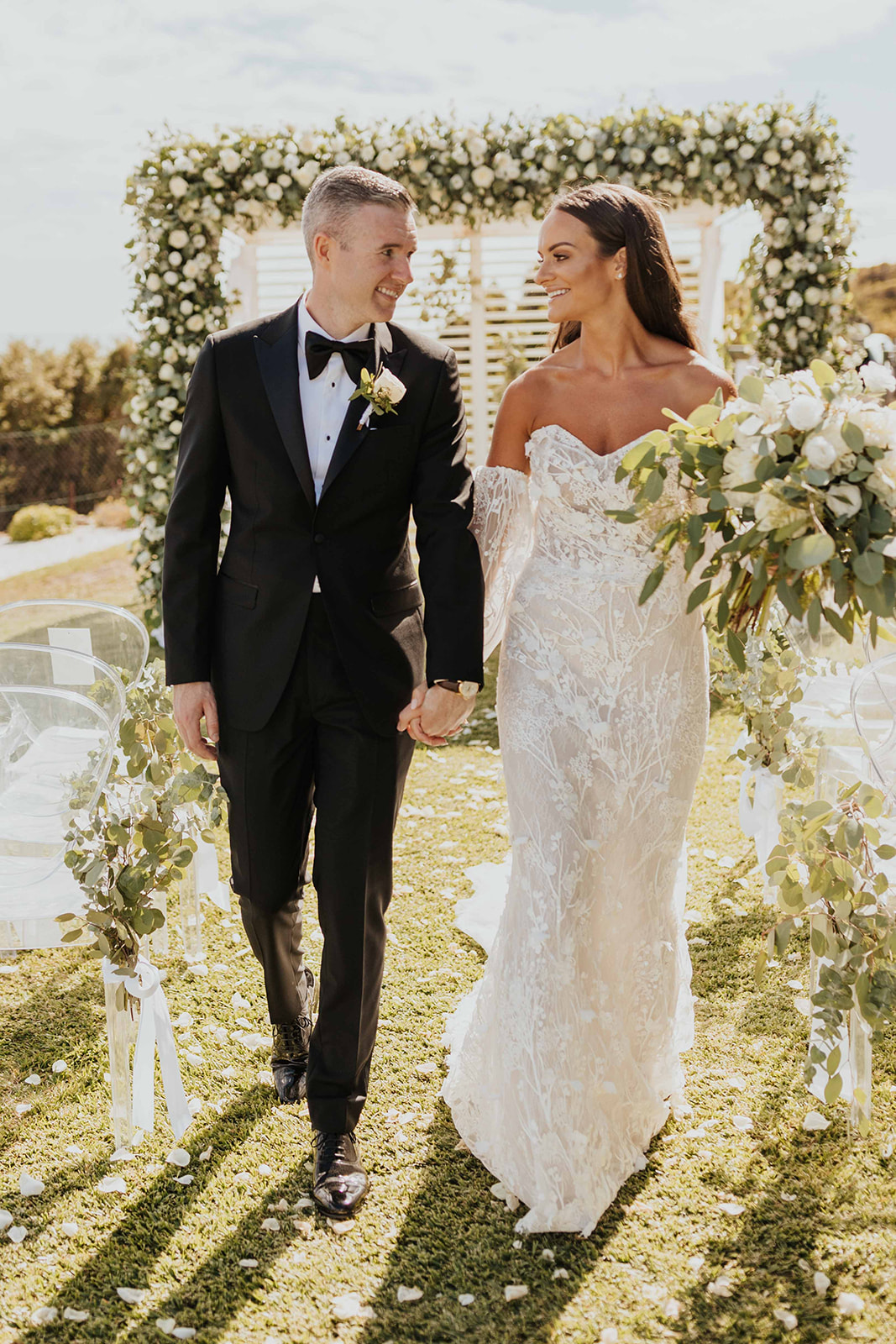 This miserable January weather has got us dreaming of sunnier climes so this week we are whisking you away to the Algarve in Portugal for Megan and Ciarán's big day last summer.
Having found an image on Pinterest of her dream dress, Megan knew she'd found "The One" before even trying anything on. A little bit of investigative work with her sister lead her to a Galia Lahav Trunk Show here at Browns Bride where we arranged for the gown she'd been dreaming of to be in store for her appointment.
We have one month to go before our next Galia Lahav Trunk Show so book your appointment and you too could have your "Yes to The Dress" moment like Megan did, here at our boutique!
Hi, Megan! Let's start from the beginning, how did you first meet your husband?
We were both in our early twenties on a college holiday after our first year in college with our friends. We had mutual friends and began talking one night. We spent many days together in Thailand however we returned home and never spoke (Ciarán never asked for my number-which is something I still won't let him forget).
4 weeks later I was in the UCD student bar for Fresher's week and who happened to walk in… Ciarán! He came straight over, and we all went to Copper's nightclub that night and have been together ever since!
When did you get engaged and how did it happen?
We had booked a holiday to Antibes in the South of France for the end of august 2019. I was really looking forward to it as I was heading back to college in the September to begin my master's course. 1 week before the holiday Ciarán came home and told me he had a commitment with work and wouldn't be able to make the holiday. I was so angry and upset as I had been so looking forward to it! Instead, I invited my mum to come with me and she was also delighted to accept. My mum and I had a great few days away in France. One night we were in a restaurant, and I heard someone behind me saying "bonjour" I turned around and it was Ciarán there to surprise me for the weekend! I was so shocked, but little did I know what was to come. The next morning, we woke up and he told me we should go on a walk to Cap D'Antibes- that he had done as a child. He convinced my mum she wouldn't be able to tolerate the heat! So, off the two of us went. Walking the most beautiful cliff in 30 degrees heat was taking it out of me. Ciarán suggested we stop for some water and as we sat on a rock, I was waiting for him to pass a bottle of water out of his bag to me, but he was actually down on one knee with the ring! I couldn't have been more shocked – it was perfect.
How did you find the wedding planning process? What were your biggest priorities?
 Our priorities were definitely food, wine and entertainment. We both love the Portuguese food and wine so when we had our menu tasting in Tivoli Carvoeiro we knew straight away we had picked a winner. Entertaining our guests with music was so important to us. We are so lucky that Ciaran's brother and groomsman Naoise Dack is an incredibly talented violist and it was so important to us he would play at our wedding. Our fabulous musicians Songbird Algarve agreed to play with Naoise for our ceremony and it was certainly one of the biggest highlights of our day. Not everyone can say they walked down the aisle to their brother-in-law playing the violin! I absolutely loved planning our wedding despite having to postpone due to Covid ! We had amazing wedding planners too who made the process so easy and stress free.
How did you find your perfect dress?
I had a really good idea of what I wanted once I got engaged. I was looking on Instagram and Pinterest for dresses and came across a photo of the Gala 401 gown. I knew straight away I had to have the dress. I sent the picture to my sister straight away and she agreed I needed to find it. I spent days trying to find boutiques that stocked Galia Lahav and particularly the 401 gown and then I found Browns Bride. Straight away they emailed me back to tell me there was an upcoming Trunk Show for Galia Lahav and they could arrange to have that dress sent over for the event, I was over the moon! Of course Covid got in the way and there were a lot of obstacles and postponements – however the staff at Browns Bride stayed in touch with me and were so helpful. I knew straight away when I tried the dress on it was the one! I never doubted it for a second and was so excited to finally wear it on the day. I felt it was so perfect for an abroad wedding. My friends and family loved it and most importantly my husband did too! My experience at Browns Bride was incredible- I really had the "Say Yes to the Dress" experience! 
What was your favourite memory from your wedding day?
Walking down the aisle. Hearing the song I had listened to so many times for the months leading up, feel the sun shining down on me, seeing all my family and friends and Ciarán at the bottom of the aisle. It was like everything I had envisioned had all come together and I just remember feeling so happy and excited.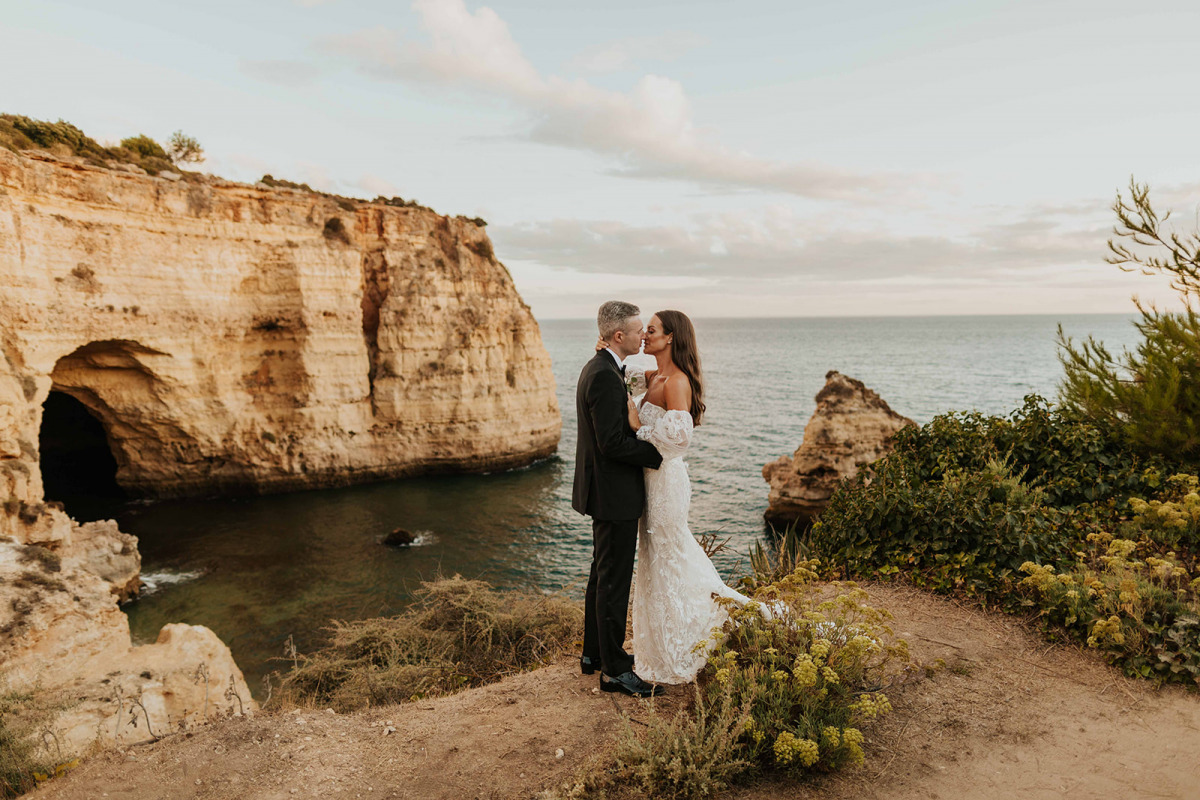 What advice would you give to future brides planning their wedding?
Enjoy every second of the planning! Milk it. Do not stress over the small things. No one is going to notice what colour the cutlery is on the day. Spend your budget on food, photographer, videographer and music!
If you love Megan's Galia Lahav gown, book an appointment to come in store and try on our full collection.
Suppliers list:
Wedding Dress – Galia Lahav, Browns Bride
Bridesmaid Dresses- Shona Joy
Tux from Moss Bros – Dundrum
Shoes – Kurt Geiger
Accessories – Swarovski
Flowers – Algarve flower design
Stationery – Peachy Prints UK on Etsy
Signage – Algarve wedding planners
Makeup – Sharon Phillips MUA
Hair – Joana from the Jar hair
Wedding Rings – Blue Nile
Ceremony/Reception Music – Songbird and Naoise Dack
Band/DJ – DJ Farby/Carlos Glória Sax
Photographer – Joao from visual stories
Videographer – Marco from @jmcinematography
Planning/Styling – Paula and Karina from Algarve wedding planners
Rentals/Decor – Made For Each Other Algarve
Venue: Tivoli Carvoeiro