Browns Bride Real Wedding – Megan & Ant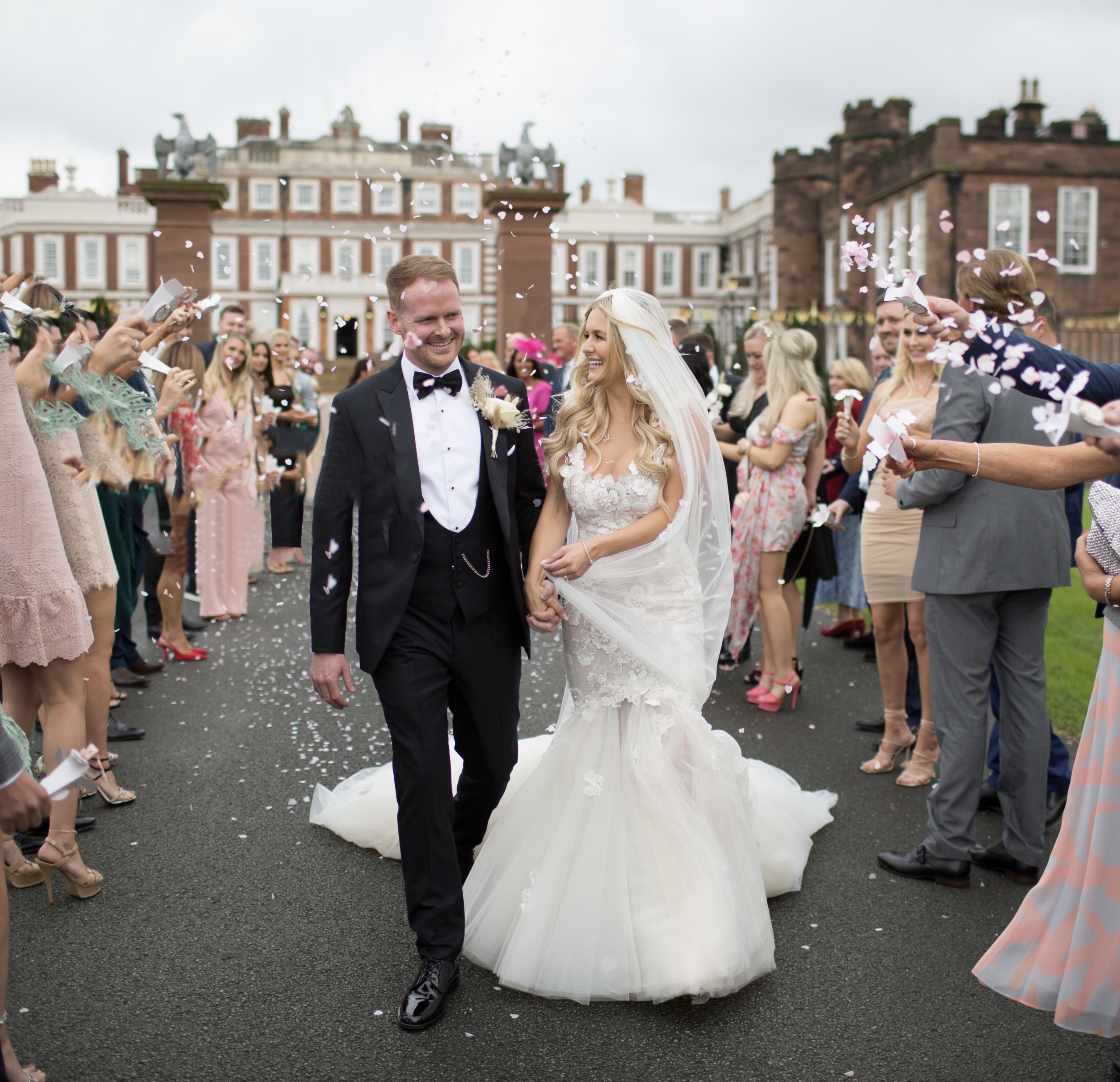 How do you know when you've found your dream dress? For some it takes just a few dresses, for others – the hunt for "The One" isn't so straightforward and can lead to brides worrying they'll never get that "Say Yes to the Dress" feeling. For Megan, the search seemed never-ending until she stumbled across Galia Lahav on Pinterest and came along to a Galia Lahav Trunk Show here at Browns Bride.
This week we caught up with Megan to find out how she found her dream gown and to share the story of how she met her husband, Ant. Click below to read more!
Hi, Megan! Let's start from the beginning, how did you first meet your husband?
Where do I start? This is a question which both Ant and I answer differently – so the answer depends on who is telling the story! My Husband told his side of the story in his speech, so it's time to hear my side now…
  We first noticed each other in the Summer of 2011 on the wonderful party island of Ibiza! We were in Ushuaia beach club and I noticed him as soon as I got there! Our eyes locked with each other's and our souls must have known the amazing journey that was ahead of us. 
We went on our first date when we got home – we got on so well and talked for hours! The following day we were both happened to be at the same music festival with friends and we accidentally bumped into each other and ever since then, we have been inseparable. We really are best friends, our dreams interests and passions have always been aligned. Our passion for music is what really brought us together and will always be a big part of our life. 
When did you get engaged and how did it happen?
We got engaged in 2018 when we were on holiday in Dubai. It really was the most perfect, intimate proposal. Ant organised a romantic, private dinner set up on the beach (candles, flowers, sounds of the sea and views of the Burj Al Arab) it was magical, a real dream come true.  I am so, so lucky to have pictures of our engagement too, which captured the moment so beautifully, and a video which I often watch. We actually used the same videographer in Dubai for our wedding video.  Dubai will always have a special place in our heart, we went back to the same resort for our honeymoon and a perfect choice to return to where it all began!
How did you find the wedding planning process? What were your biggest priorities?
I loved every part of the planning process – I'm a lawyer, so I'm naturally very organised and take a leading role in making general plans in our household, especially travel! Being able to plan every part of your wedding day, especially when you have dreamed of it since being a little girl, is a little overwhelming at times – there's so many options, for everything, but I really enjoyed it and I do feel that I now have a deeper understanding of myself, it was a beautiful experience.
When Covid came along, obviously this was every brides nightmare with postponements and cancellations etc. It was horrendous and one of the most stressful times of my life, luckily I had an amazing venue and suppliers, so this really helped with the pressure of rearranging twice!
One of our biggest priorities was music and entertainment. Music is a big part of our lives and we wanted to set the right tone at each part of the day, and we wanted it to be really personal to us. So, we searched for songs which really meant something to us as a couple and it really made every part of the day extra special. I walked down the aisle to our pianist playing 'Save the World' by Swedish House Mafia and we had Coldplay 'A Sky Full of Stars' for our first Dance. It was magical!
We didn't want the dreaded lull in between day and night, so we searched for entertainment and it did not disappoint. We hired singing waiters and there was no gap at all in between the wedding breakfast and the evening so it all flowed beautifully. The atmosphere was literally electric all day, it was worth every moment of planning!
How did you find your perfect dress?
I must have tried every dress in the north of England and I just couldn't find the right dress. I am a bit of a perfectionist so I did start to worry that I would never find 'the one'. I first laid eyes on Galia Lahav as a designer on Pinterest and was wowed instantly by the designs, the dramatic trains with plunging backs with such incredible detail. I also loved the blush tones which I found so stunning.
I decided to go and play dress up at the amazing Browns Bride in London. I went to try on the Loretta originally, but the style didn't really suit me. However, I was lucky enough to have the lovely Lauren's assistance – who brought out the Michelle gown from the Make a Scene collection and it was everything I wanted and more, just sensational. I was overwhelmed with emotion, excitement and I had never felt so beautiful. She was the one! From the moment I found my dress, to every fitting and finally on my wedding day, I loved every moment of wearing Michelle. I will be forever grateful to Browns and Lauren for helping me find her, it was meant to be.
What was your favourite memory from your wedding day?
My most cherished memory has to be seeing my gorgeous husband for the first time in the ceremony and just being together at the front of the aisle, holding hands so tightly and knowing this was the moment we become husband and wife.  It really felt like we were the only people in the room. I can still hear our pianist playing our special music and the overwhelming feeling of love. I would do anything to relive this moment and in fact, the whole day.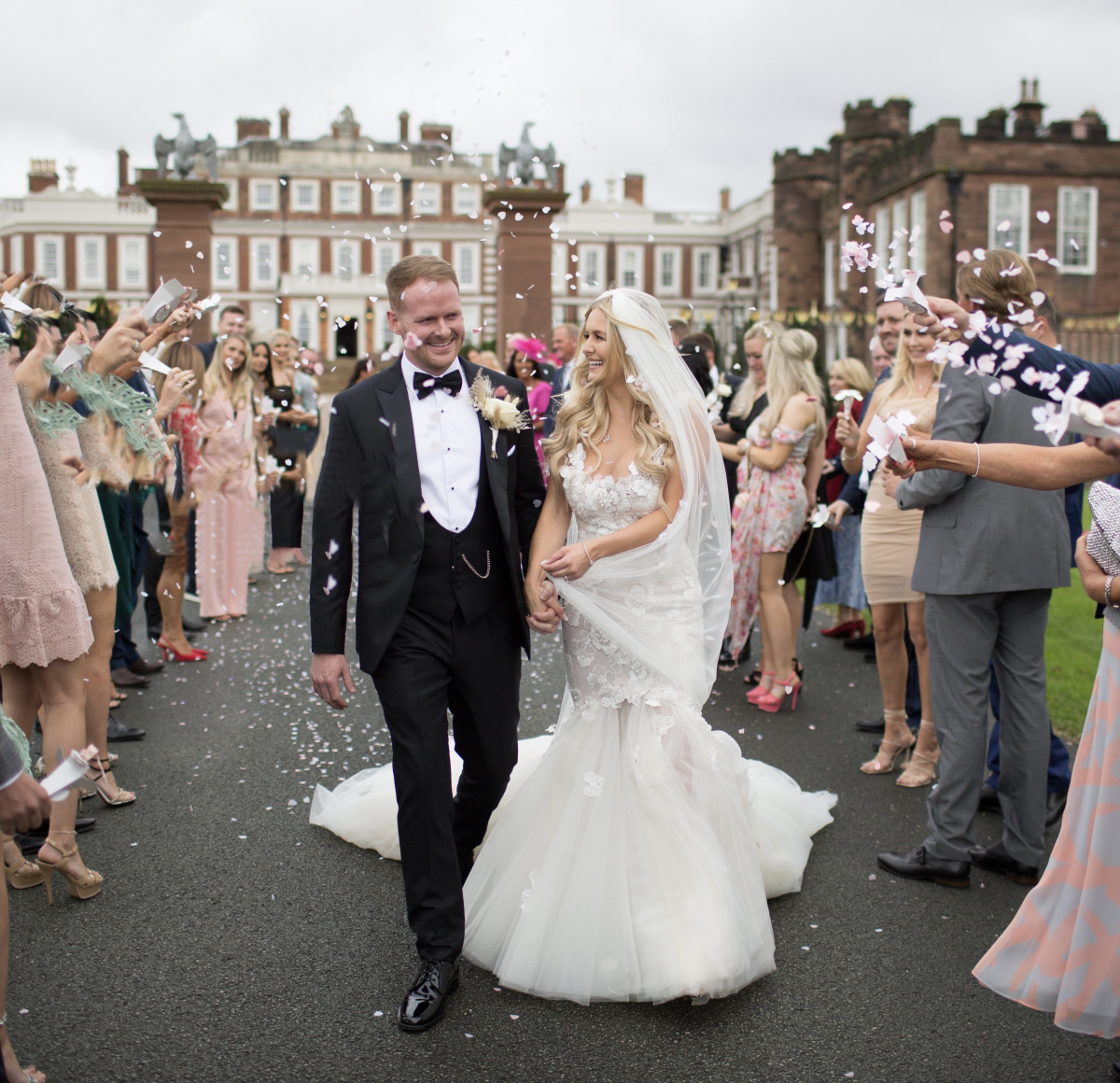 What advice would you give to future brides planning their wedding?
One million percent, try to factor a wedding video into your budget if you can. It gives you the ability to relive your day in a way that nothing else can – our video brings us through the entire whirlwind of our special day, in real time, from beginning to end and it is literally priceless. We honestly couldn't imagine not having this! 
Post wedding blues – it is a real thing, and I did get this, it isn't talked about enough until you realise you have it! I think it was made worse because of the Covid delay we had, which meant I was planning for 3 years in total, so the void after the wedding was really heavily felt.
It is the best time of your life, everything is exciting and perfectly tailored to you both, the big day is a whirlwind in itself and then after the honeymoon everything quietens down, and I really missed that period of my life. However, having photographs and the wedding video to follow after the wedding, really got us through the blues and they bring you back to some of the most precious of memories you will share together, so again, I can't stress enough how important it is to savour the moments forever. 
If you love Megan's Galia Lahav gown, book an appointment to come in store and try on our full collection.
Suppliers List:
Photographer: Lesley Meredith Photography @lesleymeredithphotography
Videographer: Adam Maggs @adammaggs
Brides Dress shop: @brownsbride
Label: @galialahav
Men's suits: @whitfieldandward
band: @callumjwrightofficial
pianist: @lizhendry_pianist
DJ: @djleemorrison
Flowers: @josephmassieflowers
Venue Dressing: @88eventscompany and @bigeventgroup
Cake: @clairesmacarons
Make-up:@lillikellymakeup
Hair: @hairbyjordancarter
Stationary: @thepaperdoll
Our personal Instagram tags:
Bride: @xmeganxdanielsx
Groom: @antdaniels