CHARLENE & LUKE – Browns Bride Real Wedding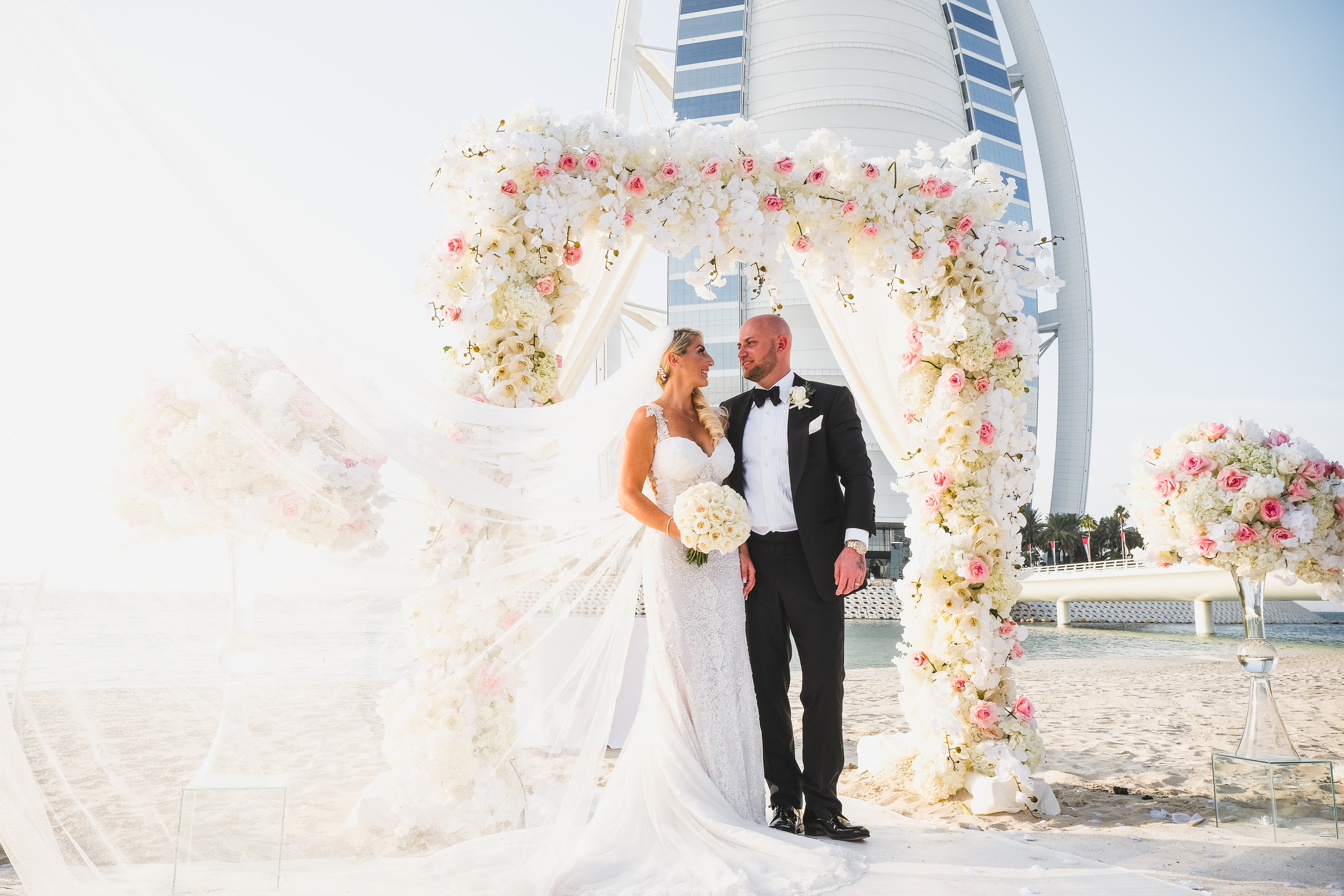 With our Galia Lahav Trunk Show happening at the start of August, each week we've been taking a walk down memory lane and have been featuring some of our cherished Galia Lahav weddings. This week we feature Charlene who wore the Samantha gown by Galia Lahav for her extremely glamorous destination wedding to Luke, last year in Dubai. Click below to read all about how Charlene found her dream dress and how you can book for our Trunk Show!
Let's start from the beginning, how did you first meet your husband?
I met Luke at 'Sisu Pool Party' in Marbella in 2014, we were both on holiday with separate groups of friends. It's funny as we live in the same town yet we never knew each other. I knew a couple of Luke's friends along with his brother and it just so happened that we were all staying in the same hotel so we met up one night for drinks, me and Luke instantly clicked and from that moment we were inseparable.
Photgrapher: The MelRish Studio (@melrish)
When did you get engaged and how did it happen?
We got engaged on 27th February 2017.
We were on holiday in Dubai and Luke had arranged a private dinner on the beach at the Atlantis hotel. He told me we were just going to dinner there, he arranged for a car to pick us up to take us there, when we arrived we were greeted by the manager of the Atlantis hotel who then escorted us through the hotel down onto the beach; which at the time I thought was odd. As we got closer there was a waiter waiting for me with a big bouquet of roses, as I looked up I saw a red carpet was leading down the beach towards the sea; at this point I knew something was going on. I walked down to the private gazebo to see a bucket of champagne set up and next to stones spelling out the words 'Charlene Will You Marry Me?'. As I turned around Luke was on one knee. I was totally in shock, we had a 5 course private dining experience under the stars, it was a breath-taking proposal in our favourite place in the world.
How did you find the wedding planning process? What were your biggest priorities?
I found the planning process very enjoyable, I miss it to be honest. It was stressful at times but we had a planner to help us, Siobhan from VIP Weddings Dubai. As it was an abroad wedding I would have struggled to do this alone. We knew straight away that it was Dubai where we wanted to get married, so we visited in November 2018 to begin the planning process. We started with looking for the perfect venue, we saw a lot of venues but the Jumeriah Al Qsar won our hearts. We wanted a beach ceremony and our reception to look like a fairy tail so my priority was to have exactly that. With the Jumeirah Hotels running all along Jumeriah beach we were lucky to have our ceremony at Sumersalt beach in front of the Burj Al Arab and our reception in the magnolia court yard at Al Qsar with lots of fairy lights and palm trees. Another priority for us after finding our venue was good food and drinks, entertainment and decor.
Photgrapher: The MelRish Studio (@melrish)
How did you find your perfect dress?
I found my dream dress at Browns Brides, I had followed Galia Lahav for years and I absolutely loved her designs. I knew it was a Galia dress I would get married in before I even tried any other's on. I attended the Galia Lahav Trunk Show were I meet Sharon and Lauren, with Lauren's help we found the perfect dress. I knew straight away it was the one as when I tried it on I instantly cried. With Sharon and Lauren's ideas we made some changes to the dress which totally tuned it into my dream dress, we even added more sparkle. The veil was something special, I had never seen a veil like it. I felt it really completed the dress, I had the most amazing experience at Browns Bride, from the moment I walked in everyone made me feel so welcome and special.
What is your most cherished memory from your wedding day?
As we sat down at the top table I looked at my husband and said ' we did it' I sat there looking out thinking wow! It was my dream come true. I really did feel like I was in a fairy-tale, the venue looked magical, more than I could of wished for. That moment and that vision will stay with me forever. Seeing everyone who means the most to us there and the venue looking that beautiful will forever be in our hearts.
Photgrapher: The MelRish Studio (@melrish)
Finally, what advice would you give to future brides who are planning their weddings?
Try enjoy the planning, enjoy every moment because this is such a special time in your life which goes by so fast. Try on lots of dresses but when you know you know, so really cherish this moment because for me this is something I will never forget. Remember its your wedding day, not anyone else's so the only people you need to please is yourselves. Let your photographer take as many pictures as possible, do not rush them as believe me you will always look back at these. Lastly on the day take a few moments to yourself to stop and look around, take everything going on around you in. Its a moment you will never get back and also one you will never forget.
Photgrapher: The MelRish Studio (@melrish)
Don't miss our exclusive extended Galia Lahav Trunk Show from August 6th – 15th!
Click here to book your exclusive appointment.
Browse our full collection of Galia Lahav gowns here.
Dress: 'Samantha' by Galia Lahav
Photographer: The MelRish Studio