JOANNA & LEE – Browns Bride Real Wedding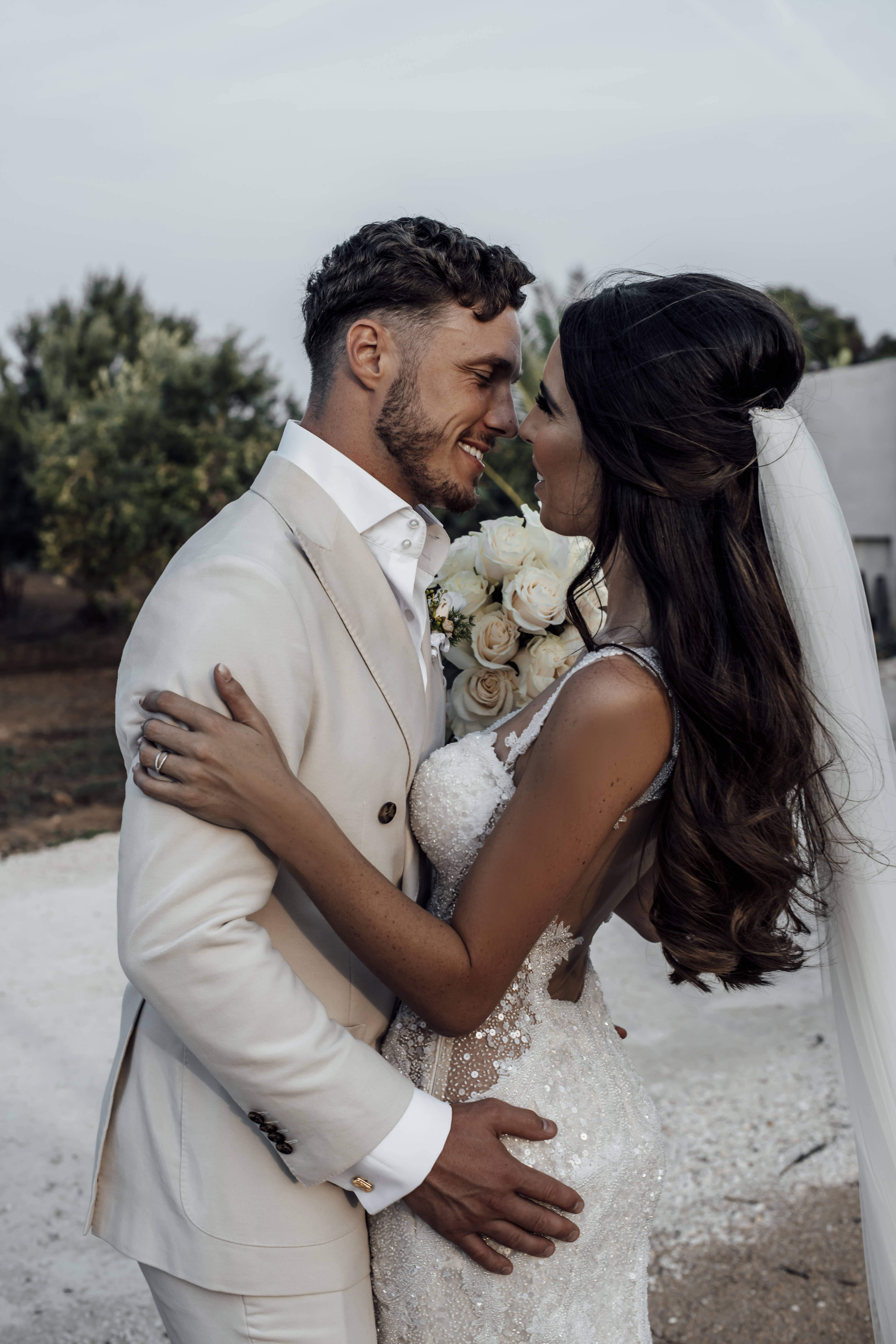 We promised our readers and our followers at the start of this lockdown that we would distract you all by sharing nothing but love, inspiration and positivity. So this week we are going to transport you from your sofa and into picturesque Puglia, which was the setting for Joanna & Lee's wedding last summer. Click below to read all about this beautiful wedding and how Joanna found her dream Galia Lahav gown…
Let's start from the beginning, how did you first meet your husband?
Lee and I met at University 11 years ago, through living in the same university accommodation and being part of the same group of friends. We spent a lot of time together over the first two years and really enjoyed each other's company, even when doing nothing, so decided to make it official!
Photgrapher: Tali Photography
When did you get engaged and how did it happen?
We were in Dubai on holiday and spent the day at a beach club listening to one of our favourite DJs. When we got back to our hotel to get ready for dinner; our room had been set up with a bouquet of flowers, rose petals, champagne and cake. Initially I thought someone had broken in to the room, but once i turned around and saw Lee was down on one knee, I knew what was coming!
How did you find the wedding planning process? What were your biggest priorities?
Being an event planner myself (but in the sports industry), I really enjoyed the planning process and was really excited to have everything organised and written down in spreadsheets! To give myself the extra challenge, we decided that a destination wedding was a must, so kicked off our planning with trying to find a location that we loved. As our guests were all coming from abroad and giving up so much money and time to be there, we wanted to make sure that it was a fun time for everyone, without following all the standard wedding format so entertaining everyone was a big priority. Of course the dress, makeup, hair and venue were all top off the list too!
Photgrapher: Tali Photography
How did you find your perfect dress?
After following all of the best bridal stores in London on Instagram and seeing so many photos; I instantly fell in love with the Galia Lahav designs. The signature style of low back and figure hugging was exactly what I wanted, so I immediately booked an appointment with Browns Bride during a trunk show weekend, to see if I could find the one that I had always dreamed of. From the moment I walked through the door through to the last visit to pick up my dress, the experience I had with the ladies there was exceptional. I spent so much time with Lauren trying on dresses (more than she probably would have imagined); all of which she made me feel amazing in, despite my indecisiveness. On my second visit, I was lucky enough to meet Sharon from Galia Lahav, who was so accommodating with making tweaks to the dress to make it even more perfect. During all my fittings with the talented Maria, she made me feel at ease and turned my dress in to something even more unique to me.
What is your most cherished memory from your wedding day?
I have so many great memories of our wedding day and pool party the day after, especially seeing all of our family and friends that have never met each other before, all come together and become new friends – some of whom are still chatting six months later. Our family and friends have all said that their favourite memory is of Lee and I driving back in to the venue in a little red Fiat 500, whilst the saxophone played some of our most loved house music. We got out of the car and all danced together, cocktails in hand whilst the sun set over the beautiful Puglian Masseria.
Photgrapher: Tali Photography
Finally, what advice would you give to future brides who are planning their weddings?
With just under two years to plan our wedding, I definitely made a few rushed decisions, so I would advise that if you have more than 12 months to plan your wedding, then don't rush into making decisions too quickly – give yourself time to see what is out there as trends change so quickly and something you liked 6 months ago might be different in the future.
If you are planning a destination wedding then I would definitely recommend a wedding planner to help with planning in the lead up, but more importantly on the day too – our wedding planner (@weddinginpuglia) was incredible and made sure that I didn't have to deal with any last minute issues or concerns.
Photgrapher: Tali Photography
Don't miss our exclusive Galia Lahav Trunk Show in August! Email us at enquiries@brownsbride.com to book an appointment and find out more!
Browse our full collection of Galia Lahav gowns here.
Dress: Aveena by Galia Lahav
Photographer: Tali Photography