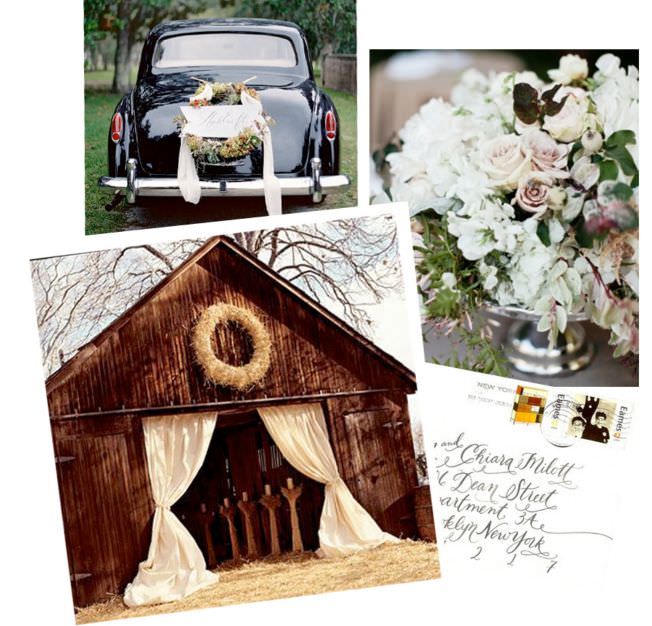 Lela's advice on planning the perfect wedding…
Sage advice for the Bride: Just enjoy the day. Nothing much can be done the day of so don't worry, let it be. Because I think that if the bride is calm, upbeat and happy, everyone else will be too. The party will be more fun!
Beauty tips for the Bride: Definitely play up your features in a glowing, pretty way. You should look like a more glamorous version of yourself.  Just because it's your wedding day, you don't have to go overboard on your makeup. More importantly "wear a smile.
Tips for…
Choosing a venue – Somewhere meaningful is ideal if that is a possibility. A realistic assessment of how much time and energy you have to dedicate to your wedding is also necessary, the more unique the venue, the more work it can be!
Choosing centerpieces – I love for centerpieces to reflect the theme or thread of the event. I had wedding centered around trees and their bending strength and beauty, therefore I used branches and driftwood as my centerpieces.
Décor – Again, I like to use a theme or thread to tie everything together and feel like choosing something meaningful allows you to make a subtle statement. It is also a helpful editing tool so you don't end up with too many ideas.
Invitations – I am more of a classicist when it comes to invitations. I really love a weighted card stock and a beautiful calligraphy. I think the color choices should remain more classic (greys, browns, black). Bring your bit of color either on the side of the card or with a ribbon.
Menu – Planning any menu is always my favorite part. A specialty cocktail is a must and a great way to greet your guests and give them a sense of what to expect. The menu should also reflect your theme, be elegant but not too stuffy (or difficult to eat).
Music – A great band makes for a great wedding! Make sure to be respectful of your older guests though in the beginning and to get louder as the night goes on. Too much noise early on takes away from the sincerity and ceremony of the event.
Lela Rose x