MEGAN & ARCHIE – BROWNS BRIDE REAL WEDDING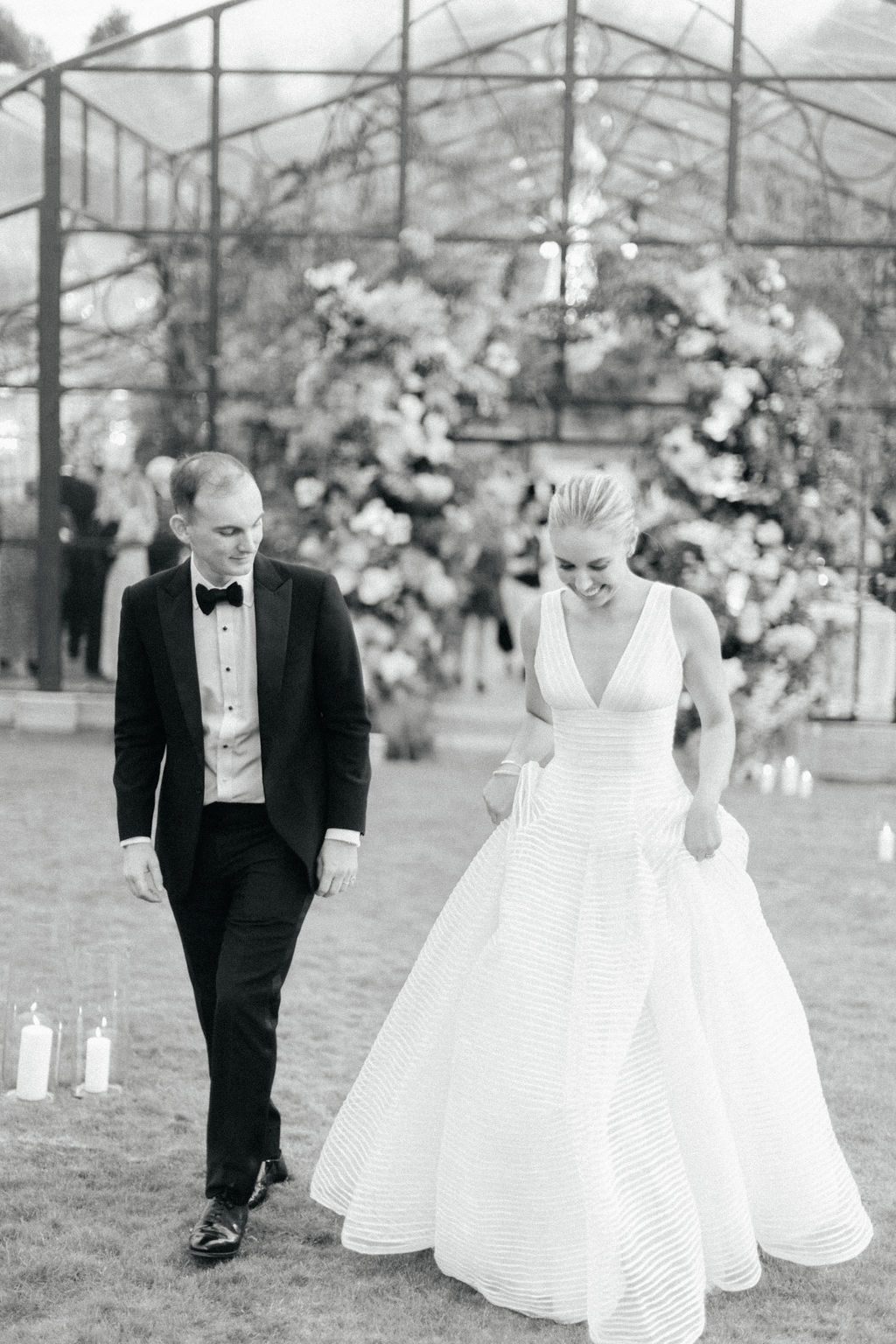 Designing a custom gown is no mean feat even in the most normal of circumstances, but throw into the mix a global pandemic, multiple lockdowns and a dress designer who was stuck in Italy… it was never going to be plain sailing to create a bespoke wedding dress for our bride, Megan.
During Megan's first visit to Browns Bride we quickly discovered that she was a bride who favoured tailoring and androgynous design over the more traditional frills and fancies found in wedding boutiques. By combining the elements she liked of some gowns and understanding which designer would work best for her – a quick call to Milan was all it took before Megan began the process of designing her dream dress with the one and only, Peter Langner.
Click below to read more about the process Megan went through to create her dream dress and to see pictures of Megan and Archie's gorgeous wedding day.
Hi, Megan! Let's start from the beginning, how did you first meet your husband?
When did you get engaged and how did it happen?
We got engaged in July 2020, following lockdown #1. As life started to return to normal, we hosted a BQQ on the Saturday, of which my two best girlfriends were at, and on the Tuesday, Archie had booked our favourite restaurant, Daphne's.
Nothing seemed strange, as I was just thrilled to be going out! We sat down, had a glass of champagne, (to which I assumed was to toast our first evening out in many months) but before we were able to order Archie fumbled in his pocket and in a little pouch was his Mother's ring – which is so very special. There was no getting down on one knee, it was very discreet, very us. We had a wonderful meal, not that we were hungry by that point, before racing home to call our family and friends – some of which, of course knew! I must give credit to my girlfriends, of who clearly said something right at our BBQ!
How did you find the wedding planning process? What were your biggest priorities?
I wont lie, after 12 years, you have a pretty clear idea of what you both like, don't like and all the little bits in between – we had talked about our Wedding for many year. But, we worked with the fabulous team at Liz Linkleter of whom understood our brief straight away – traditional, yet modern, elegant and chic. We wanted to blend Town and Country, which is reflective in our Church and venue choice – and we were incredibly lucky to have confirmed our Church, St Pauls Knightsbridge, and our evening venue, Stonor Park in Henley, relatively quickly despite COVID causing quite a cram with venues and dates which were falling over from 2020.
Having multiple lockdowns during the planning process, whilst completely stressful, actually allowed us to pleasantly plan the admin side of the Wedding quite easily, and as soon as we were able to, began the exciting activities of food tasting, floral meetings, stationary design, table scape planning and of course, the dress fitting!
How did you find your perfect dress?
I knew straight away that Browns Bride was the place to go – especially as I was quite fearful of the process as I am not a traditional 'dress wearing' girl so was hopeful that there would be a designer for me amongst all the fabulous collections they stock. I prefer tailoring over dresses and with a previous career in Menswear fashion I was determined to find a dress that was feminine, traditional yet modern and structured – but wasn't sure if this rather wide brief would even exist in a wedding dress.
We had our first fitting in October with Lauren and stumbled upon Peter Langner whose pieces seemed to blend structure with femininity in a way that felt just amazing and ticked the boxed for what I was hoping I'd find. After trying on dresses elsewhere, nothing seemed to live up to a dress that I found in Browns Bride so we returned and began the process of making the piece a little more 'me'. This started by Peter designing a custom, tailored jacket of which I wanted to wear for the Church service. We had great fun on Facetime calls with Peter, and chatted through how the piece could work so that it was a separate item, but when worn with the dress looked like one.
Taking inspiration from a similar top piece that my Mother wore on her Wedding Day, and blending in some of my love of tailoring, Peter created a structured bolero that blending with the dress via a cummerbund inspired waist, before falling into the dresses skirt. We also adapted the fabric on the dress, and used a fabric of another style of Peter's, the Panarea, which is just so unique with many many metres of paper ribbon.
The dress designing process ended up as a custom design, and I am so thankful that Peter was open to tweaks of his design and saw my vision more perfectly than I did!
What was your favourite memory from your wedding day?
Honestly, the whole day was so special and I couldn't possibly choose one. We feel truly thankful that we were able to have our Wedding Day, surrounded by all our family and friends – something that a few months before, we were doubtful of.
What advice would you give to future brides planning their wedding?
The advice I would give future brides is to ensure the day is entirely you and your partners. From the dress and the overall wedding colour scheme to all the smaller elements – having a day that genuinely and truly represents you as a couple will stay with you and your guests throughout – and it is doesn't go unnoticed! So stick with your instincts throughout the entire process.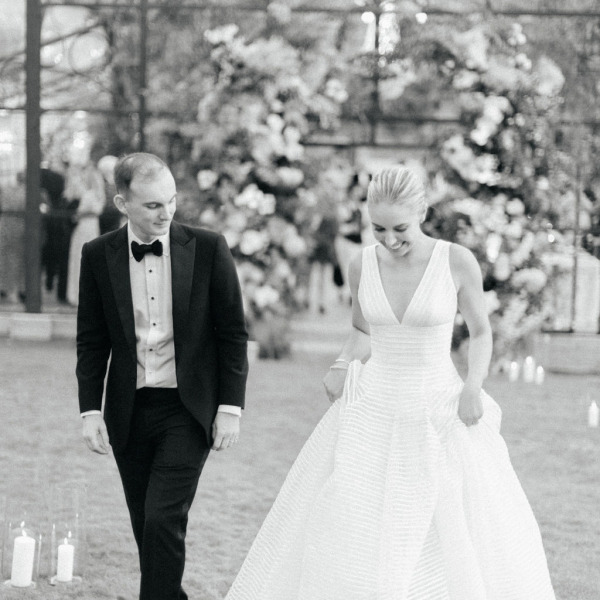 If you love Megan's's Peter Langner gown, book an appointment to come in store and try on our full collection.
Wedding Planner: Liz Linkleter (@lizlinkleterevents)
Florist: All for Love (allforlovelondon)
Photographer: Maureen Evans (@mmeweddings)
Videographer: Taylor & Porter (taylorandporter)
Hair: Snowden Hill (@snowdenhill)
Make-Up – Sarah Jane Wai (@sarahjanewai)