MIRA ZWILLINGER TRUNK SHOW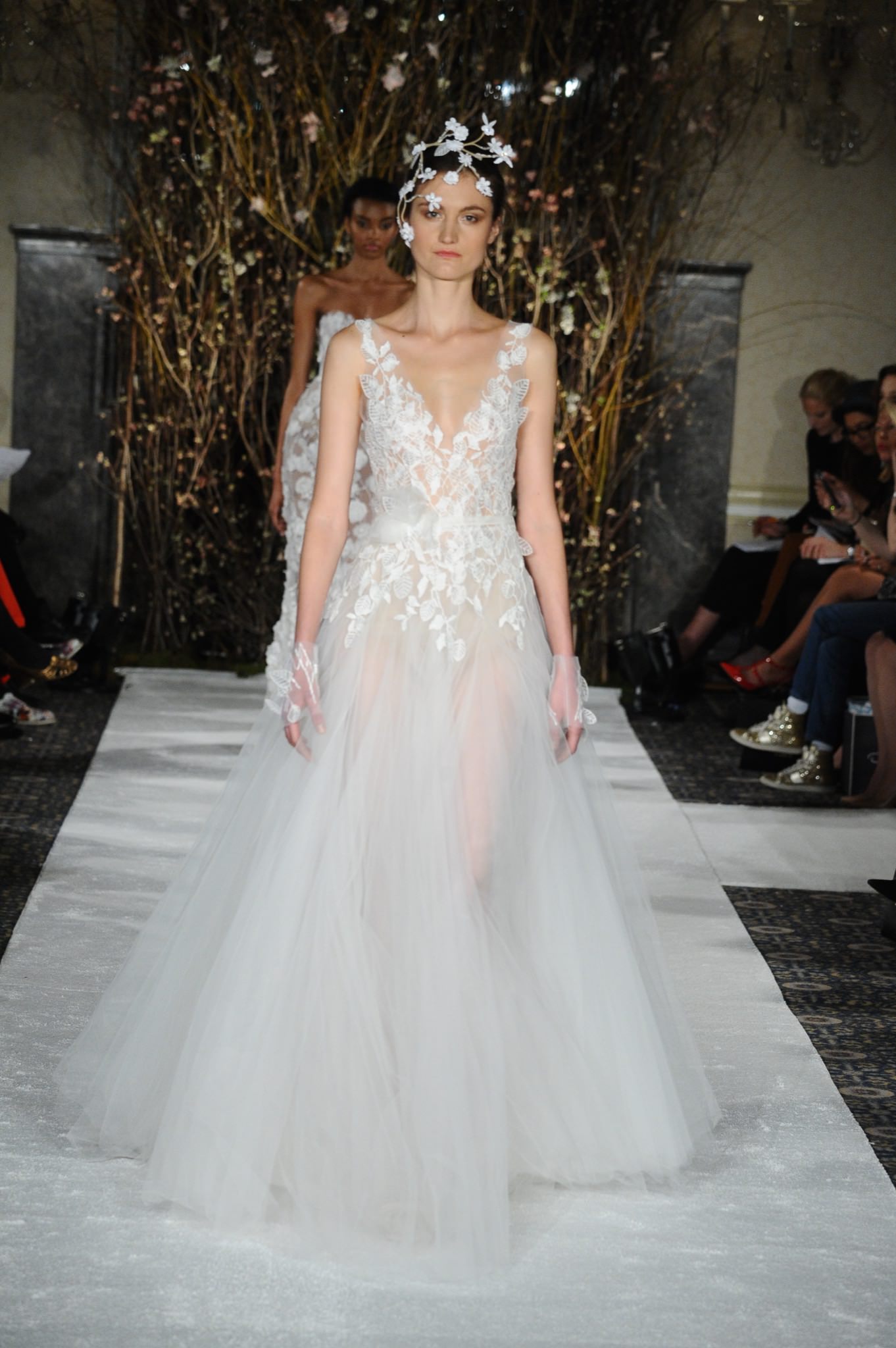 Mira Zwillinger has been designing dresses and building her brand for over 25 years. Having been stocked at Browns Bride since 2006, we have had the privilege of seeing the Mira Zwillinger name grow in popularity and demand. Joined today by her daughter, Lihi, this mother and daughter design duo are now one of the leading wedding dress designers in the world. With each beautiful collection released once a year for New York Bridal Fashion Week – it's not hard to see why the demand is so high. This December we welcome Lihi Zwillinger, daughter of Mira, over to our Browns Bride store to showcase their newest collection "Whisper of Blossom". Read more below to find out more about the brand and the new collection that is hot off the runway.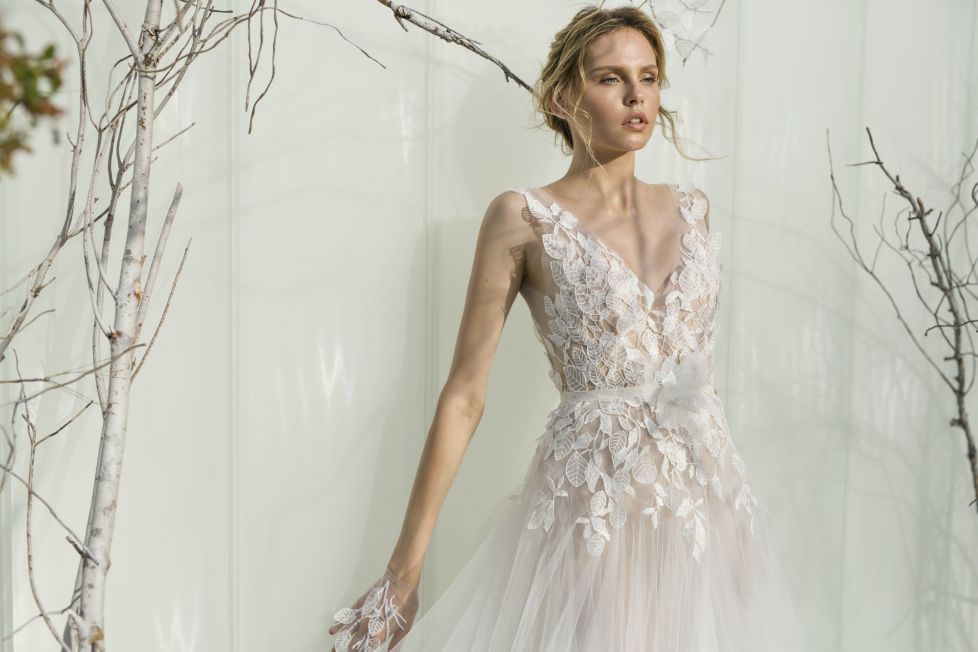 Mira Zwillinger – Whisper of Blossom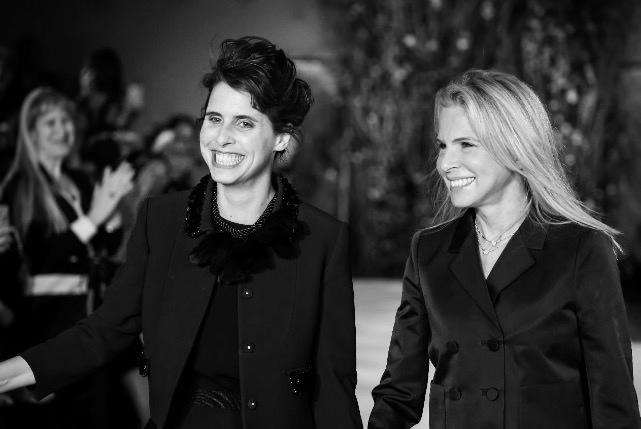 Lihi & Mira Zwillinger
Established in 1991, Mira Zwillinger set up her own design studio in her home city, Tel Aviv. Now designing with her daughter, Lihi Zwillinger, this design duo are one of the biggest names in the industry. Exuding luxury and couture – every made to measure gown is cut and created in their Atelier. The pair continue to design bridal collections that are full of elegance, romance and sensuality. The newest collection, 'Whisper Of Blossom' debuted in New York this year, and we are thrilled to be showing this wonderfully whimsical collection at Browns Bride store this December.
Inspired by the life that blooms after winter, 'Whisper Of Blossom' is the latest wedding collection from Mira Zwillinger that epitomises all the elements of spring. The dresses are adorned with nature inspired details; naked branches begin to bud and vines start to bloom. Embellished with silk flowers, clustered sequins and hand sewn petals, each gown tells a story of magic that's about to unfold. The delicate applique, with their three dimensional texture, bring the dresses to life. Muted hues of rose and shades of nude create the base palette that radiates the romance of this collection.

The refined lines and structure of the bodices juxtapose the flowing, balletic skirts. Made to measure corsets sit beneath the hand embellished bodices, using couture design and precise measurements to ensure a perfect fit. Beneath the waistlines fall flowing skirts complete with layers of fine-spun tulle or hand pleated chiffon, creating a sheath silhouette. Some are finished with plunging V-necks, others are complete with asymmetrical necklines that cross over the body. Throughout the collection the silhouettes are soft and delicate, composed of dreamy A-lines and ethereal princess cuts. Although having grown their brand on an international scale, this family-run Atelier have always kept to the same philosophy that each of their dresses must tell a story of a timeless fairy tale.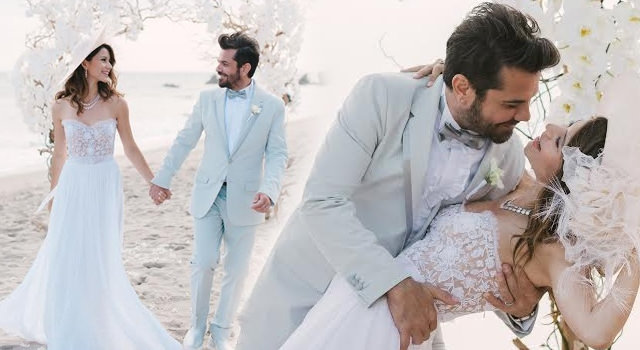 Beren Saat & Kenan Dogulu. Beren wore Mira Zwillinger 'Jade' on her wedding day.
On Friday 2nd & Saturday 3rd December, we have the pleasure of hosting our annual Mira Zwillinger Trunk show. This weekend solely dedicated to their new collection 'Whisper of Blossom' will give brides the opportunity to try on these newest gowns and meet Lihi Zwillinger herself.
Below you will find a preview of the dresses that will be available to try during our trunk show dates.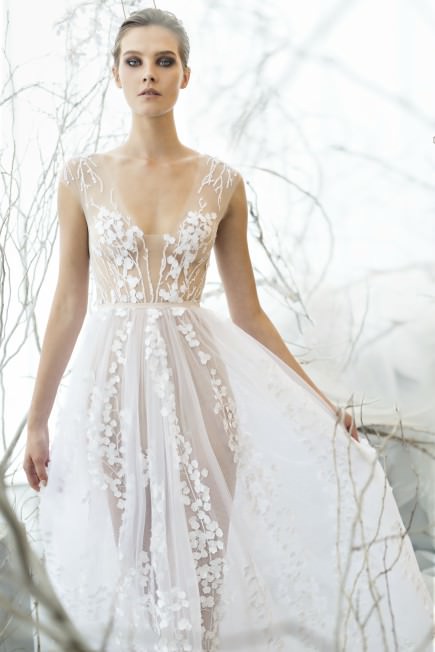 Calla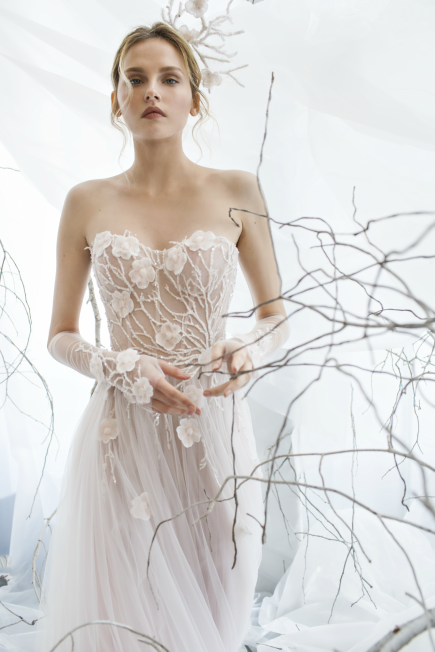 Flora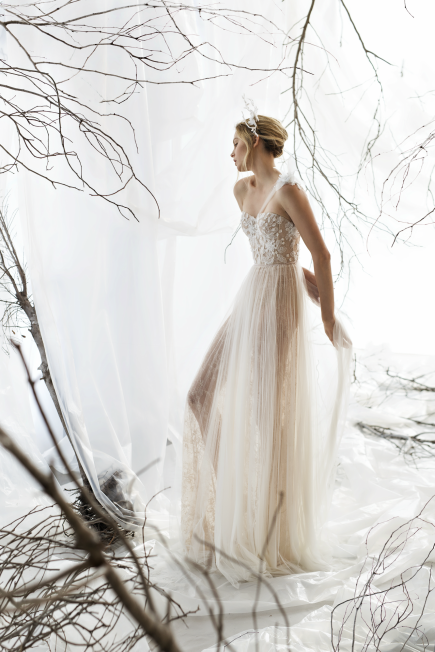 Jasmin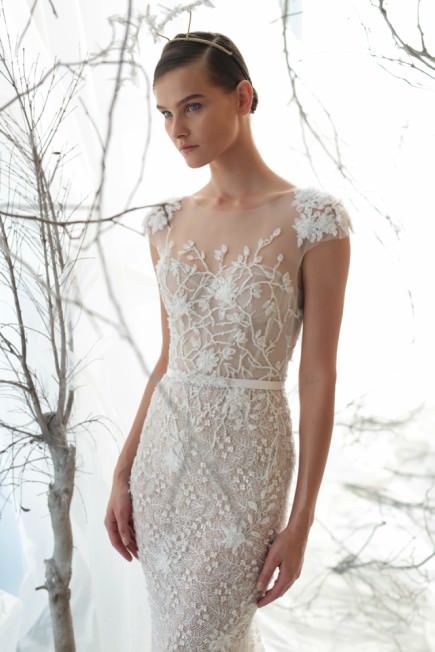 Lily
 To book an appointment to come in and try our dresses please call us at 020 7034 1400 or email us at enquiries@brownsbride.com
To browse our current collection from Mira Zwillinger that is available to try on in store click here.