"NO FUSS" LOOKS FOR THE MINIMALIST BRIDE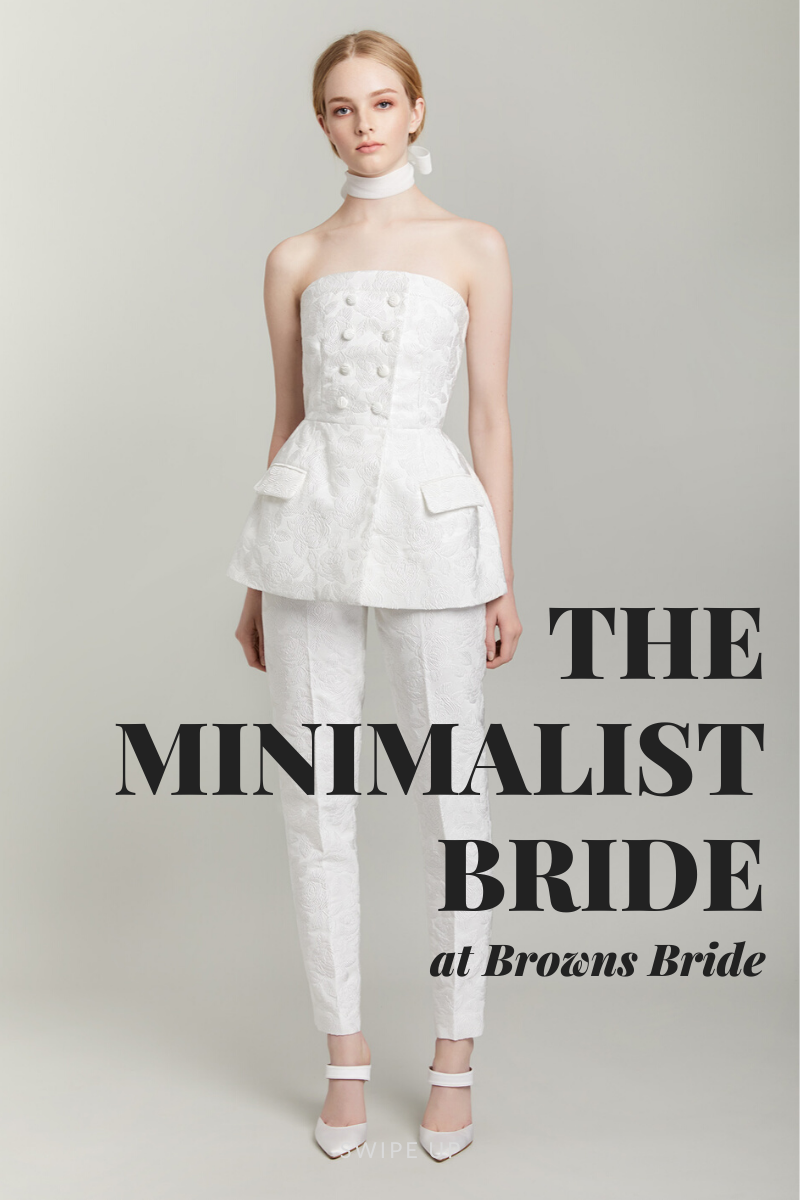 Are you wanting a more simple, minimalist look for your wedding day? Maybe you're looking for an fashionable alternative to a "traditional" wedding dress? Have you considered a jumpsuit or two piece instead of the big white ball gown? Read our latest blog post which features all our designers who specialise in creating looks for the more fashion forward brides.
Not all brides want the big, fairy tale wedding dress – in fact; a lot of brides now are looking for a more minimalist look on their wedding day.
Particularly those brides who are having a smaller wedding in a slightly more cosy, intimate setting – who may not be looking for a big train and all the bells and whistles that can often be found in most boutiques. We host a diverse collection of designers that offer a simpler look, less frills, less glitz, just beautifully cut, uncomplicated gowns.
Lela Rose
Texan born Lela Rose has always liked a clean-cut look. Lela always manages to keep a softness to every gown she creates, every gown exudes femininity. Although you can always find a touch of lace and shimmer in each of her collections, ultimately her signature is clean and elegant.
Vivienne Westwood
Strong & Simple. Two words that perfectly sum up a Vivienne Westwood gown. The delicately draped silk exterior juxtaposes the signature Westwood corset which sits within. The corset alone helps a woman feel strong and secure whilst the soft minimalist fabric adds a soft touch of romance and movement to a rather simple gown. The gowns would be perfectly suited in the setting of a registry office or in the setting or a small garden party wedding. Ultimately, the Vivienne Westwood Collection is iconic and timeless.
Elizabeth Fillmore
Having come from a design background of evening wear, Elizabeth Fillmore certainly doesn't over-complicate her gowns. The sheath style silhouette hugs the body effortlessly allowing the soft bias cut skirts to drape comfortably. Embellishment is kept to a minimum, allowing the fine fabrics Fillmore chooses to really flourish.
Viktor & Rolf
The Viktor & Rolf collections are minimalist to a degree – they like to play more with the architecture of the fabrics as opposed to adding lots of ornamentation. There is almost an origami feel to the gowns they create, incredible fabrics layered with perfectly aligned seams, each piece strategically placed and effortlessly executed. The versatility within a Viktor & Rolf collection is so fantastical; there are mini dresses, pant suits, two pieces, rompers, mammoth ball gowns – there truly is something for every bride who wants something more fashion forward. With all the different silhouettes, shapes and lengths we find they work perfectly for a change for the evening and even work well as night before or day after outfits!
A simple gown not only allows the bride to be the feature of the entire look, but it also gives space for the bride to play with her accessories far more than a heavily decorated dress would. We like to think of these more simple style gowns as blank canvases; something you can add to in your own unique way, allowing your personality and style to play a part on your big day.
We stock a wide range of accessories from statement tiaras to delicate earrings – no appointment necessary to try on.
Don't forget to have a look at what we offer in our Sample Boutique. We offer a wonderful selection of dresses in this part of a store for a fraction of the price.
Call us on 0207 034 1400 to schedule your appointment.