PETER LANGNER – EXCLUSIVE 2020 INTERVIEW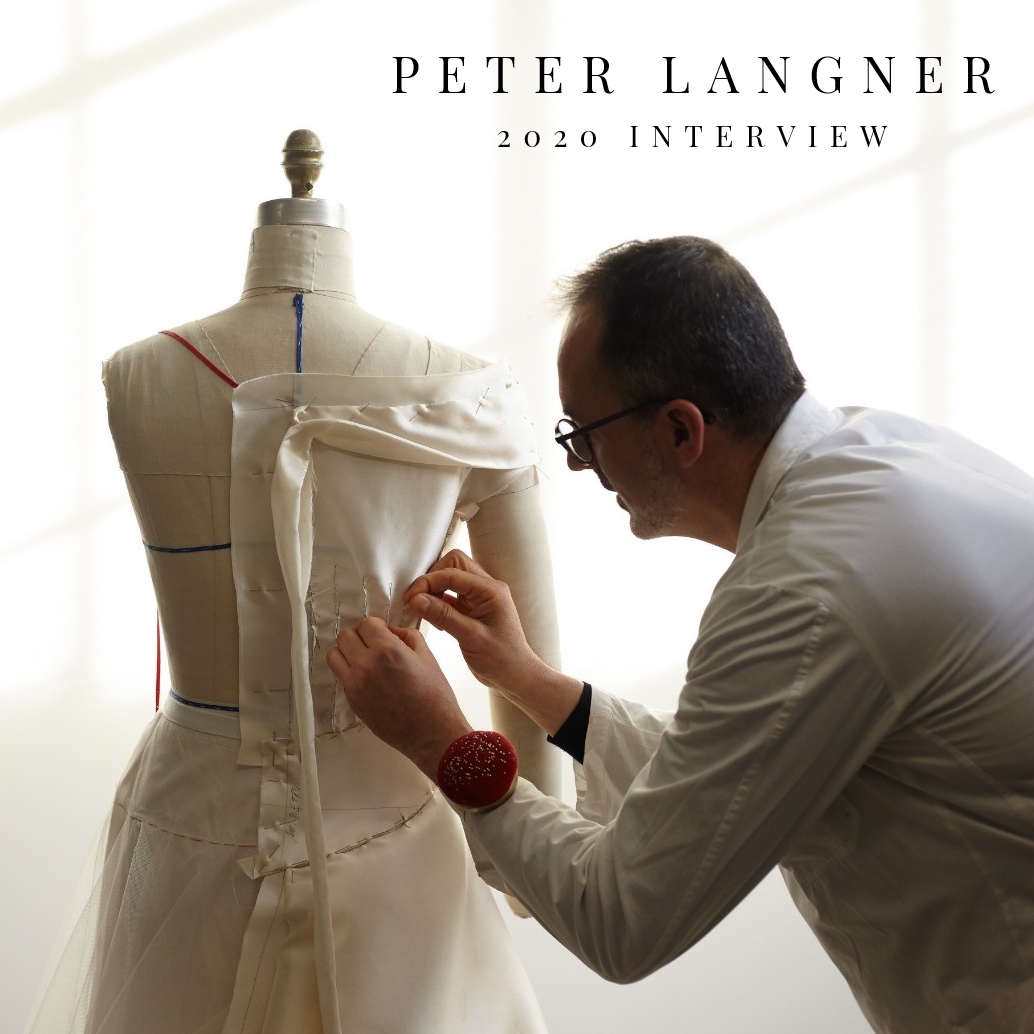 Whilst everyone is safely self-isolating at home we thought there was no better time than to have a catch up with one of our most-cherished designers, Peter Langner. Peter Langner has been designing wedding dresses since the age of 24. After having worked for the finest fashion houses including Dior and Christian Lacroix, Peter went on to open his first showroom in 1991 in Rome  and in 2015 moved his showroom and headquarters to Europe's fashion capital, Milan. Read all about his upcoming collection and his expert advice for brides-to-be!
Ciao, Peter! It's a pleasure to have you as a guest on our blog. A lot of brides are at home right now and will be wanting to learn a little more about you and your collection – so let's get straight to it!
Can you pick a favourite gown from your 2020 Collection?
I think our most interesting and most timeless gown in our collection is the 'ESTELLE' with its detachable overskirt. It is a grand ballgown with a full duchess silk-satin overskirt. The best thing about it is that after the wedding ceremony, you can detach the overskirt and have a sleeker, elegant wedding gown with a very intriguing back in draped tulle.
We can't wait to see you 2021 Collection when it is launched. Can you give us a little preview?
That is not that easy! Currently, we are right in the middle of the new collection and we have 30 very different looks planned for our new season. Each style is created for a different, unique wedding. They are made to transform the look and the mood of the wedding. We are using different techniques of draping and sewing, shapes and finishes to make a statement for every single look. So, I have to say, please wait a bit longer!
Ok, we'll be patient! Can you tell us what was the inspiration behind your upcoming 2021 Collection?
I always start with the materials itself. Each fabric, or lace " tells" you what can be done or how you can change or transform it. We try to mould the fabrics onto the body, to enhance shapes and curves. We always wish to make a feminine sculpted gown with unique finishes and detailing. You will see the new collection for 2021 will be very different from anything we have done before.
We love an accessory! In your opinion, what accessory should a bride never be without?
Sorry, I cant tell you too much as the new collection is going to take the word 'accessory' to a whole different level. What I can say is that the veil remains our must-have accessory. It 's a seemingly simple accessory but it has the power to completely transform a bride's look as it evokes magic and emotion.  We always put same effort, research, creativity and passion into the design process of a veil – as we put on a dress. Above all, we can customize our veils so a bride can choose length, shape, tulle quality, lace and embroidery and have her own unique piece.
We always design a matching veil to every gown we create as it plays an important part in completing the look!
With each year that goes by, brides are becoming more and more aware of their footprint on the world. Have you adopted any practices within your studio to help the Peter Langner brand become more sustainable?
In the past 15 years, we have always been very careful with which kind of fabrics we use and how to make sure that nothing is just thrown away. Our collection at its core has a very timeless approach, so we never like the idea that a gown or style is just for one season rather for another season. We are using more and more recycled fabrics which have been produced and styled from fibres which have been used before. You would be surprised what can be done today!
Over the last century, there have been some incredible gowns worn by some incredible women. What has been your favourite gown worn by an A-lister?
Even though we were extremely lucky that our gowns have been worn by stars like Constance Wu ( Crazy Rich Asians ), April Kepner ( Grey Anatomy ) or Holly Willoughby it is not important the name who is wearing your gown, but how good each single gown looks on a bride. I prefer to see all our bride as the big star on their wedding day!
What key advice would you give to your brides when she's searching for her wedding dress?
The most important thing is to go with an open mind to your appointments and follow the suggestions given by your stylist. The entire experience of trying on gowns, seeing yourself in a white gown is very special and you should follow your heart with the advise of an expert team. You need both, your heart as much as the expert help. The trust you put into a good associate, is repaid by the best advice and help possible.
Did you always want to be a wedding dress designer?
Not in particular, but to make people happy is a very special and unique way to spend your days. If I look back to the thousands of women who have lived their wedding day with our help, that is pretty amazing and I would not change a day of it.
Finally, whilst you are self-isolating – what have you missed most about your studio in Milan? We bet you can't wait to get back!
At the moment, we are living a unique experience which we all never have imagined possible. Our industry is particular is everything about bringing people together and at the moment seeing them all apart, is not easy. But we have to stick to the rules, we own the time and with the time we can break this virus. Stay home and stay safe
E-mail us at enquiries@brownsbride.com for more information!