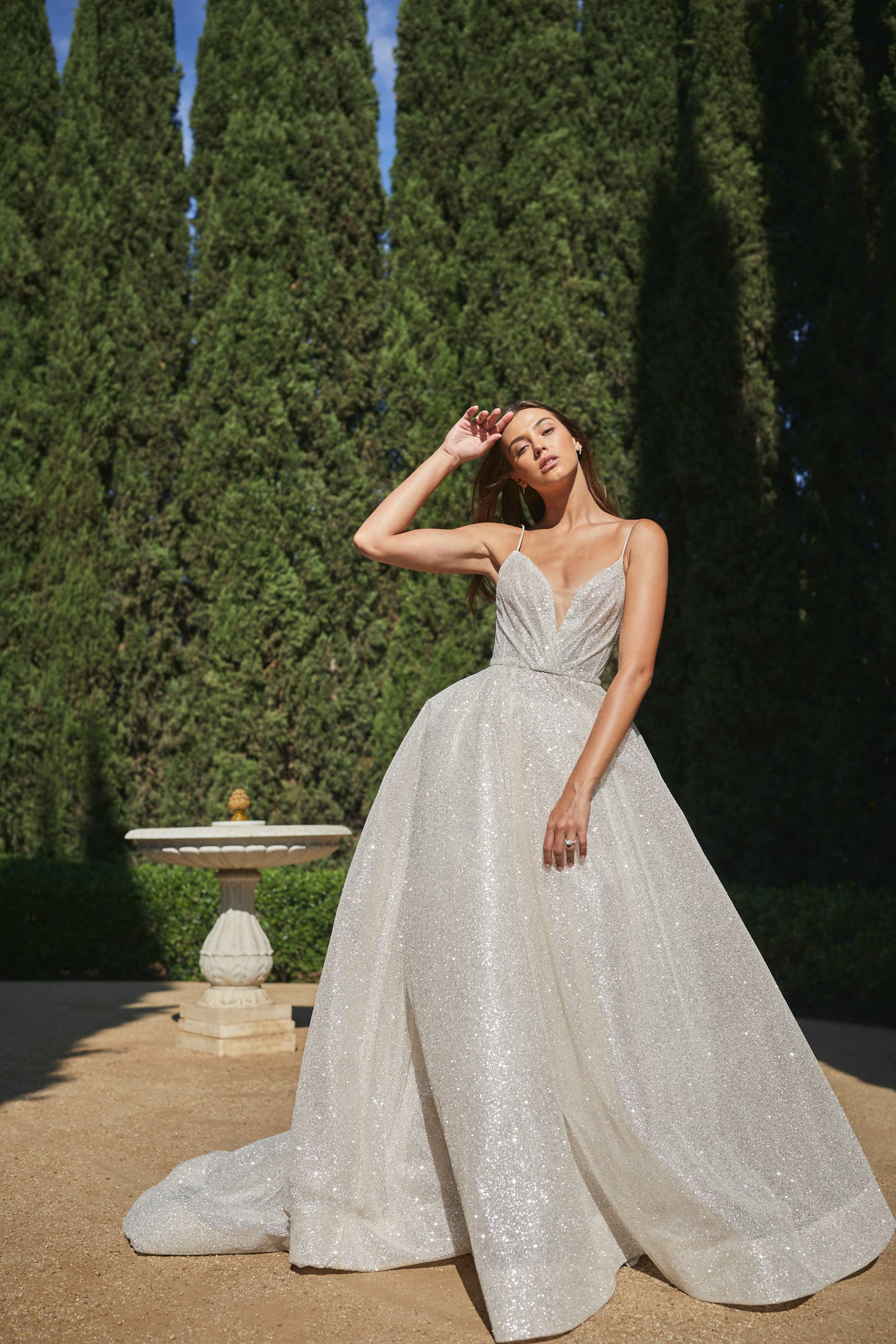 Let's talk sparkle! Glitz, glamour and glitter are popular design features which many brides are looking for and fortunately, designers have become very savvy as to how they can add all the sparkle without weighing down a wedding dress. Click below to find out more about some of our most sparkly gowns at Browns Bride!
First up Galia Lahav A.K.A The glitter gods. The majority of Galia Lahav's collection features sparkle; be it pearls, sequins, diamantes or glitter. If you're looking for a gown that sparkles on your wedding day – no one does it like Galia Lahav. We are the exclusive stockists of both the Galia Lahav Couture and Gala collection in the UK. Both collections from Galia Lahav feature incredible detail and elaborate designs. Don't miss our extended Galia Lahav Trunk Show from 6th – 15th August! Click here to book.
Dana Harel is another Israel based designer who knows her way around sparkle. Dana strikes a harmonious balance between romance and glamour by combining bespoke, patterned fabric with delicate adornments such as clear sequins or freshwater pearls. The metallic thread used in a lot of Dana's designs also helps to create a luminance which catches the light effortlessly.
Up next we have Monique Lhuillier. Now, anyone who knows Monique will know she tends to prefer lace over luminosity. However, there is one dress in her Spring 2021 Collection which is unlike another gown we've ever seen from Monique. The aptly named 'Sparkle' gown (pictured below) is a bedazzling A-line gown which shimmers from top to bottom. We are so excited to have the new collection over from September 4th-5th at our  Monique Lhuillier Trunk Show. Click here to book.
There are of course ways you can add a touch of sparkle to your wedding day look without being adorned in embellishment. Designers such as Peter Langner create beautiful embellished veils which perfectly compliment a more minimalist wedding look. We stock a wide variety of Peter Langner veils at Browns Bride!