SAHAR & GIUSEPPE – BROWNS BRIDE REAL WEDDING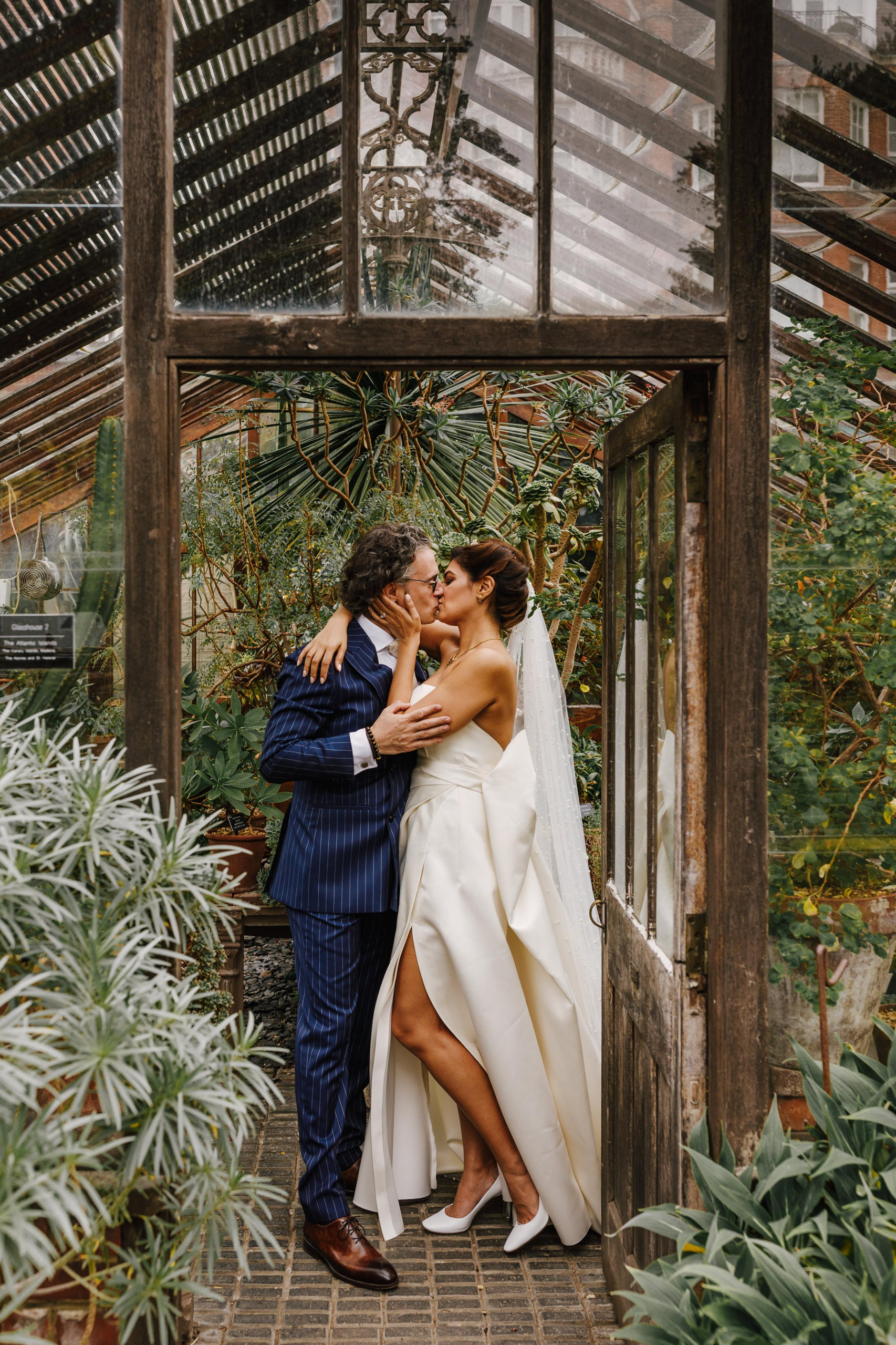 This week we take you to the charming Chelsea Psychic Garden for the wedding of Sahar & Giuseppe. Sahar's striking minimalist Viktor & Rolf gown perfectly complimented the vibrant, botanical setting of this incredible London venue. It's hard to believe this endearing location is right in the heart of the city, with it's exotic flora and spectacular evergreens and Sahar's modern gown juxtaposes the wild setting perfectly.
Click below to read more about their wedding and how the couple went about planning their dream day!
Hi, Sahar! Let's start from the beginning, how did you first meet your husband?
We were first introduced by a very dear friend of mine, during a Design Week after party. We had a pleasant chat surrounded by people, photographers and general Design Week commotion. We then went our separate ways only to bump into each other randomly exactly a year later. It seems as though our paths were meant to meet!  We tried to figure out how we recognised one another.  I left to go meet my friends and remember thinking to myself, 'I like him, I wonder if I will bump into him again'.  Little did I know, he was already a step ahead of me.  He contacted me through a mutual friend and invited me to meet him at an event.  It was Art Week so we bumped into each other quite a lot over the series of four days and I thoroughly enjoyed every minute of it.  The following week, he invited me out to dinner and I remember feeling butterflies in my stomach when I read his message!
When did you get engaged and how did it happen?
It was my birthday and we went to stay one of my favourite hotels.  We had a romantic walk on the beach and at some point Giuseppe disappeared to "check on something". I later found out he was going to make sure the set up for dinner was perfect. He had organised a beautiful romantic private dinner on the beach under the stars. When we arrived the area was lit by beautiful candles and there were rose petals all around us. We had a drink in the lounge area they had arranged for us… It was sublime and so thoughtful.
At one point in the dinner I realised he was unusually quiet…I later realised it was the nerves!  We moved onto the sofa for one last drink and some birthday cake. As we sat there in our private candle-lit cocoon on the beach, Giuseppe turned on to one knee and proposed saying the most touching and beautiful things about our life and our love. I smile every time I think back to that moment.
How did you find the wedding planning process? What were your biggest priorities?
Due to the changing nature of Covid restrictions at the time, we weren't able to complete the work with the wedding planner we had chosen – so it was back to the drawing board. As it turned out, we ended up planning the wedding ourselves in just three weeks! This included finding a dress, photographer, venue and everything else!
Initially we had a specific vision for a destination countryside wedding…during lockdown we took time to pause and reconsider our priorities and what we truly wanted from our special day. Allowing ourselves the time and space to reflect on it all meant we were able to plan a magical, unforgettable, intimate, day that still felt very true to us.  Our biggest priority was making sure our immediate family and some friends could be with us, that we had good food, good wine, good music and access to nature.
How did you find your perfect dress?
I'd always envisioned a modern dress with great structure and I've got quite specific style so I knew it might take time to find something I adored.
Before the pandemic hit, I had been looking at styles online with my mum and I came across the Viktor & Rolf Mariage collection – it was love at first sight and I felt an instant connection to their designs. Then we went into lockdown and I had to cancel all appointments.
When things started to open up again I visited about 7 different bridal boutiques in the space of a week.  The highlight of them all was Browns Bride. I was so excited for the appointment, but I didn't want to get my hopes up as the timeline was quite short.  I was greeted by Ciara who was incredibly friendly and made me feel instantly comfortable and at ease.  She quickly understood the style I had in mind and we tried several options, even a tuxedo and a gorgeous jumpsuit. I didn't have anyone to accompany me that day and Mum was still abroad so Ciara was amazing in helping me capture videos and images. When I came back to try my favourites, Ciara helped with the video call so it felt like Mum was in the room with me – it made a huge difference at such a challenging time and made the experience fun.  I was also introduced to the fantastic, experienced, Mojgan who is the sweetest in-house seamstress I could have every wished for. Together with Ciara, Mojgan and video calls from the fitting room, I found the dress of my dreams. When my friends saw it they cried happy tears and said it was very 'Sahar'.
What was your favourite memory from your wedding day?
Oh goodness… there are so many! It was all pure magic! Seeing Giuseppe when I walked down the aisle, all the beautiful emotions on his face, his vows, the speeches, all the laughter and love with our guests.  The live zoom call during the ceremony was pretty epic too. Seeing all our friends celebrating the ceremony across the world brought such effervescence to the room.  Then there was an incredible surprise video that our friends created for our wedding too! They'd gained access to our house whilst we were away and filmed a hilarious tribute to us.  My best man arranged to play it at the wedding reception, and it took the feeling of love and joy to another dimension!  It'll be something we cherish forever.
What advice would you give to future brides planning their wedding?
Remember to stay focused on what will bring you both the most joy and light on the day. Know when to ask for help need and stay open to the magic of possibility. Sometimes not everything will be as planned, you'll get to a point where you just need to let go and trust. There's so much beauty and fun to be found in that sweet spot!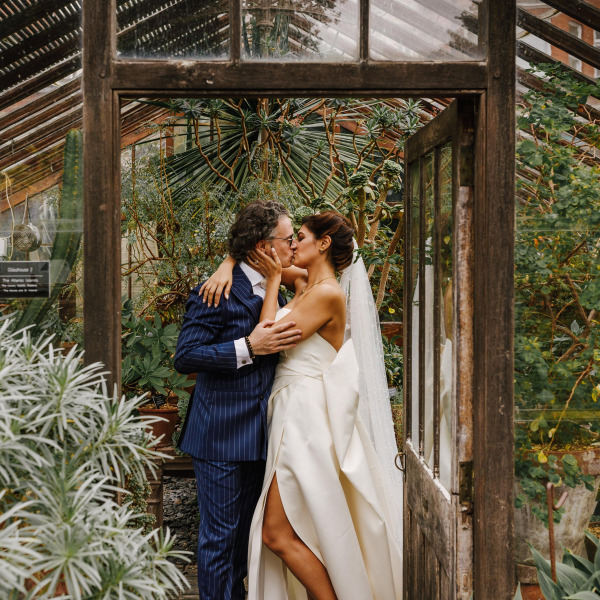 If you love Sahar's Viktor & Rolf gown, book an appointment to come in store and try on our full collection.
Don't miss our Viktor & Rolf Mariage Trunk Show where we will welcome the SS22 Collection into our boutique for two days on August 13th-14th.
APPOINTMENT ONLY!
Photographer – @nadine_van_biljon
Venue – @chelsea_psychic_garden
Hair & Make-up – @portraitsbridal
Videographer – @keeleyweddingfilms
Dress – Viktor&Rolf Mariage