SARAH & ALEXANDER – BROWNS BRIDE REAL WEDDING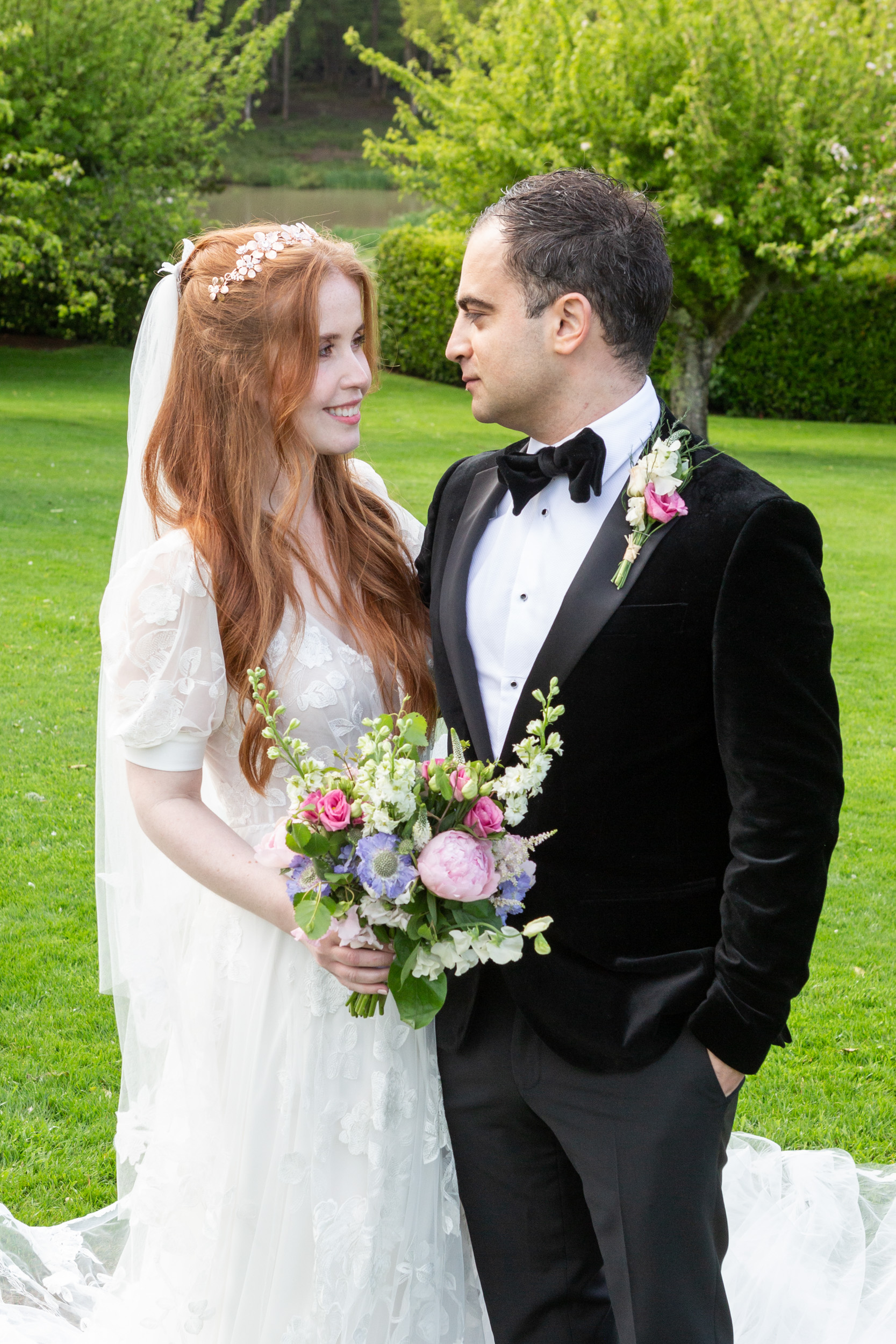 Every week we say goodbye to another bride who we've been with on her wedding journey as she collects her gown ready for her big day. Although, "journey" somehow seems like too gentle a word for what 2021 brides have been through. With all the twists and turns, changed plans, rearranged weddings, postponed dates, change of venues and wavering guest numbers which brides have had to face recently. So perhaps we should replace the words "wedding journey" with " wedding escapade".
One bride who didn't let the everchanging restrictions stop her from having a magical day was our bride, Sarah, who wore Lihi Hod for her recent wedding in May. Sarah rolled with the uncertainty and had a glorious time at her scaled back wedding. This week we chatted with Sarah to find out more about her big day, how she found her dream dress and Sarah proves to us how if there was never any rain, there would never be a rainbow (literally!)
Hi, Sarah! Let's start from the beginning, how did you first meet your husband?
We first met during our last term at the University of Leeds in the terrace bar one Friday night in March 2012. We graduated that summer and went to Sainte – Maxime in the South of France, where we have holidayed every year since. Our long distance relationship continued for five years between London and Isle of Man where Alexander trained to be a chartered Accountant.
When did you get engaged and how did it happen?
Alexander and I were now living together in London and after seven years together Alexander planned the most romantic proposal. On January 5th I flew to the South of France with my family to visit friends, little did I know when I left for the airport that morning, Alexander had a flight from another airport. He got to the house before me and due to delays, my brother (who was in on it) and I arrived hours later. Under the starry sky, on our friends balcony that looked over the bay of St Tropez, he was waiting for me, it was so magical and such a surprise!
How did you find the wedding planning process? What were your biggest priorities?
I loved planning our wedding. Of course the process at times can be testing, especially with postponements and during a pandemic, but I truly enjoyed planning our special day. Aside from serving the most delicious food with our favourite rosè and champagne, our biggest priority was ensuring our guests felt that their presence was so special to us and being able to celebrate with them.  The brief for our florist was, "Wild, romantic, spring arrangements, that look like they could have been picked from the garden that morning" We wanted to celebrate our marriage, with everyone we love and who loves us. Sadly that couldn't happen under the circumstances, but we were lucky enough to have an amazing videographer, Sam Moore, who was able to live stream our wedding, so our friends and family were able to tune in from around the world. This made it extra special knowing our family were with us, from afar. We asked them all to take a photo all dressed up and with a glass of bubbles, so we can include it in our album.
How did you find your perfect dress?
I had always admired Lihi Hod's stunning dresses, so I booked an appointment for her trunk show at Browns Bride. There were three I wanted to try and the Savannah was my favourite. When I tried it on, I just knew, it's the one. The ladies that helped me at Browns Bride were fabulous and I remember my consultant Angie said, "it's as if it was made for you." Dreamy florals and puffed sleeves, my dress was the perfect combination of pretty and sexy, with the low plunge and sheer top, covered in delicate, hand sewn flowers. They looked stunning on the day. Maria, who did my alterations, is a super star and made me feel completely at ease.
What was your favourite memory from your wedding day?
The whole day was magical but there are three special memories I have from our day:-
Walking down the stairs with my Dad waiting at the bottom
Seeing Alexander's face when I walked down the aisle
Dancing with my husband and bridesmaids in the garden, to the music of the live sax player, as the sun came back out. Moments like these that you can't plan are truly the best.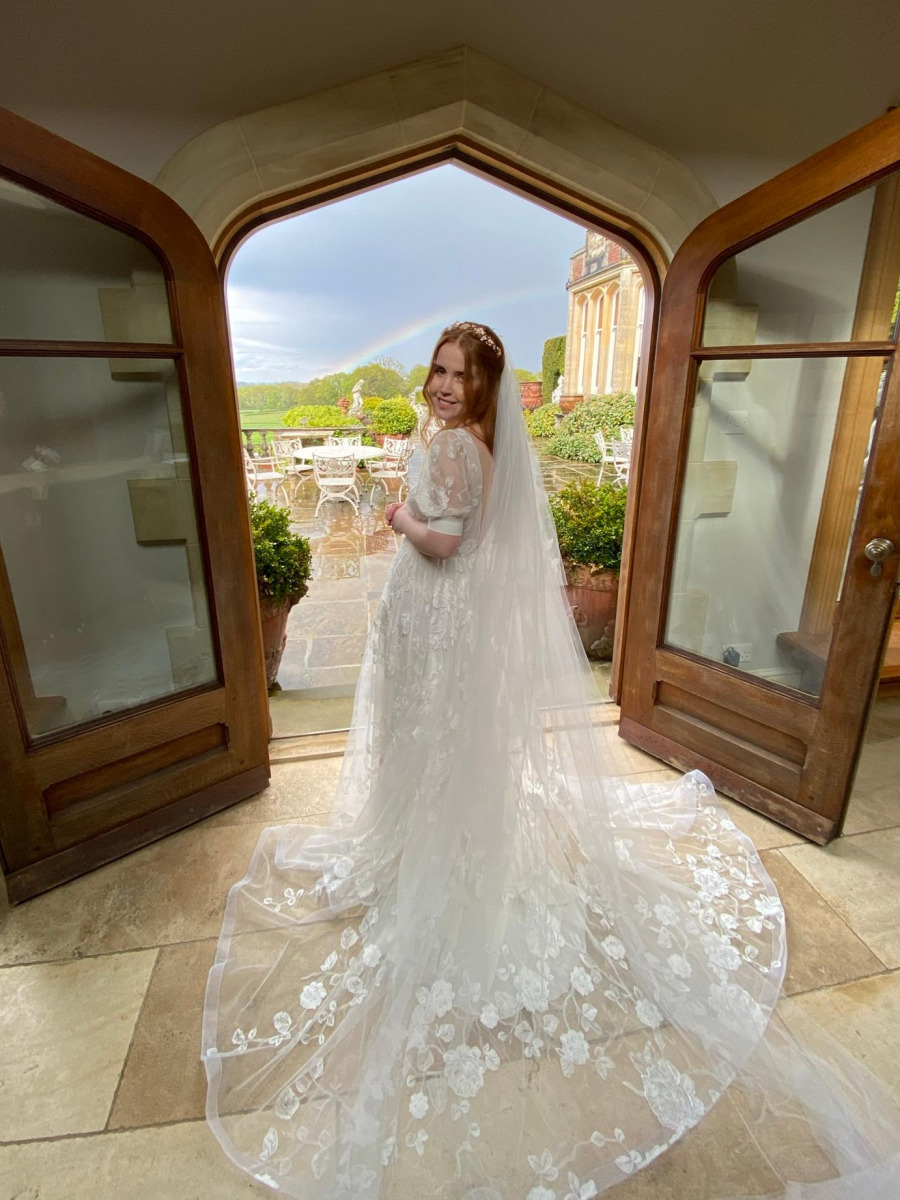 What advice would you give to future brides planning their wedding?
Do what you want to do, it's your day. Personal touches are very well received and planning a day that isn't just about you and your partner, but all your friends and family makes the day just that bit more special. It's easier said than done, but try not to stress, your day will be perfect come rain or shine. Coming from a bride, who had sun, rain and a rainbow.
If you love Sarah's gown, book an appointment to come in store and try on our Lihi Hod collection.