TAYLOR & JJ – Browns Bride Real Wedding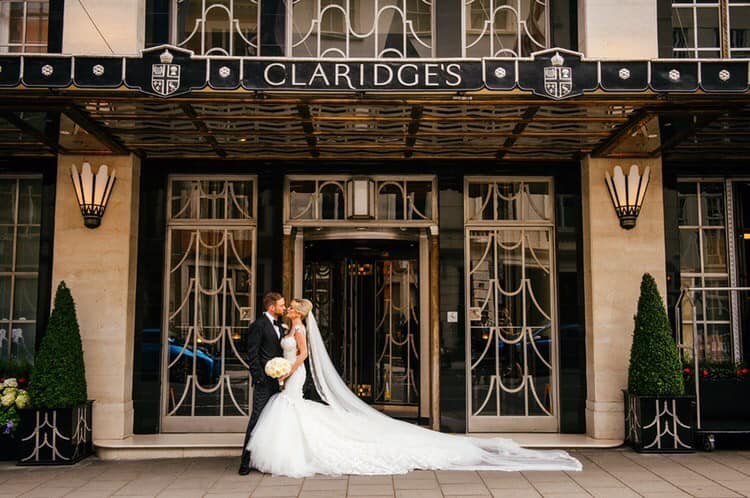 You can't beat a London wedding (OK, maybe we're bias given it's home to our beloved boutique) and this week we feature our bride, Taylor Jayne who married JJ in the most lavish London setting. Their wedding day started with a traditional ceremony at Farm Street Church in Mayfair and ended with a glamourous bang at London's most prestigious hotel, Claridge's. Taylor wore Ms. Elle by Galia Lahav, a gown that certainly matched the grandeur of her wedding day! Click below to read all about how Taylor found her dream dress and her advice to any future brides….
Let's start from the beginning, how did you first meet your husband?
I first met JJ through one of my closest friends! My friend was actually dating JJ's cousin and they introduced us in our local bar. We've been inseperable ever since!
Photgrapher: Pippa Mackenzie
When did you get engaged and how did it happen?
Both mine and JJ's families went away on holiday over the Christmas period. On Christmas Day, JJ rented this incredible room with one side made entirely of glass, over looking the sea and decorated with rose petals. All the family was stood together and JJ's dad raised a toast asking everyone what they wanted the next year to bring them. JJ went first, and as he got down on one knee and asked me to marry him! Both our dads knew JJ's plan but it came as a big surprise to every one else – and the room erupted in screams and excitement! To have everyone there for that moment and to be able to celebrate all together really did make it the best Christmas ever!
How did you find the wedding planning process? What were your biggest priorities?
I loved every second of planning our wedding. As soon as we got engaged I started looking at wedding inspiration. It was such a special time and I really put my heart and soul into it. My priority was making sure that it was going to be fun for everybody and to have a huge party! I wanted every one of our guests to be well looked after and to enjoy every second. I wanted everything to be big, especially my cake which ended up being an incredible 14 tiers!
Photgrapher: Pippa Mackenzie
How did you find your perfect dress?
I booked my appointment at Browns Bride and I just had a really good feeling about it. My appointment was amazing from start to finish, the staff were beautiful and made me feel so special. Lauren & Androulla helped me and helped turn my dream dress into a reality. As soon as I tried it on – I just knew it was the one. I was also lucky enough to meet Sharon Sever, lead designer of Galia Lahav. who had flown in from Tel Aviv. Sharon created a sketch of me in my dress and helped design my custom veil. Every fitting was so memorable and I felt like I could have gone and got married every time I tried the dress on – it was outstanding ! One of the extremely talented seamstresses from Browns Bride, Maria, also attended my wedding that morning to help me get dressed and assisted with my dress for the day as it was so big! Maria was so helpful and I can't thank the staff at Browns Bride enough. Thank you so much, ladies!
Photgrapher: Pippa Mackenzie
What is your most cherished memory from your wedding day?
My favourite moment of the entire day was walking into the ballroom at Claridges and seeing all of our guests when we entered. They were all stood up clapping, cheering and singing along with the band to 'You're Just to Good to be True'. I also loved seeing everything we had planed come together for the first time and I was so proud.
Finally, what advice would you give to future brides who are planning their weddings?
I would advise every bride to just enjoy the engagement, the planning and the wedding as much as possible because it all flies by so fast. Also, don't rush any decision – you never get this time back so make sure you take your time so that your day is everything you want it to be and more! We also involved as few people as possible in the planning process as too many opinions can confuse things!
Photgrapher: Pippa Mackenzie
Don't miss our exclusive extended Galia Lahav Trunk Show from August 6th – 15th!
Click here to book your exclusive appointment.
Browse our full collection of Galia Lahav gowns here.
Dress: Ms.Elle by Galia Lahav
Photographer: Pippa Mackenzie