VALERIA & CARLOS – BROWNS BRIDE REAL WEDDING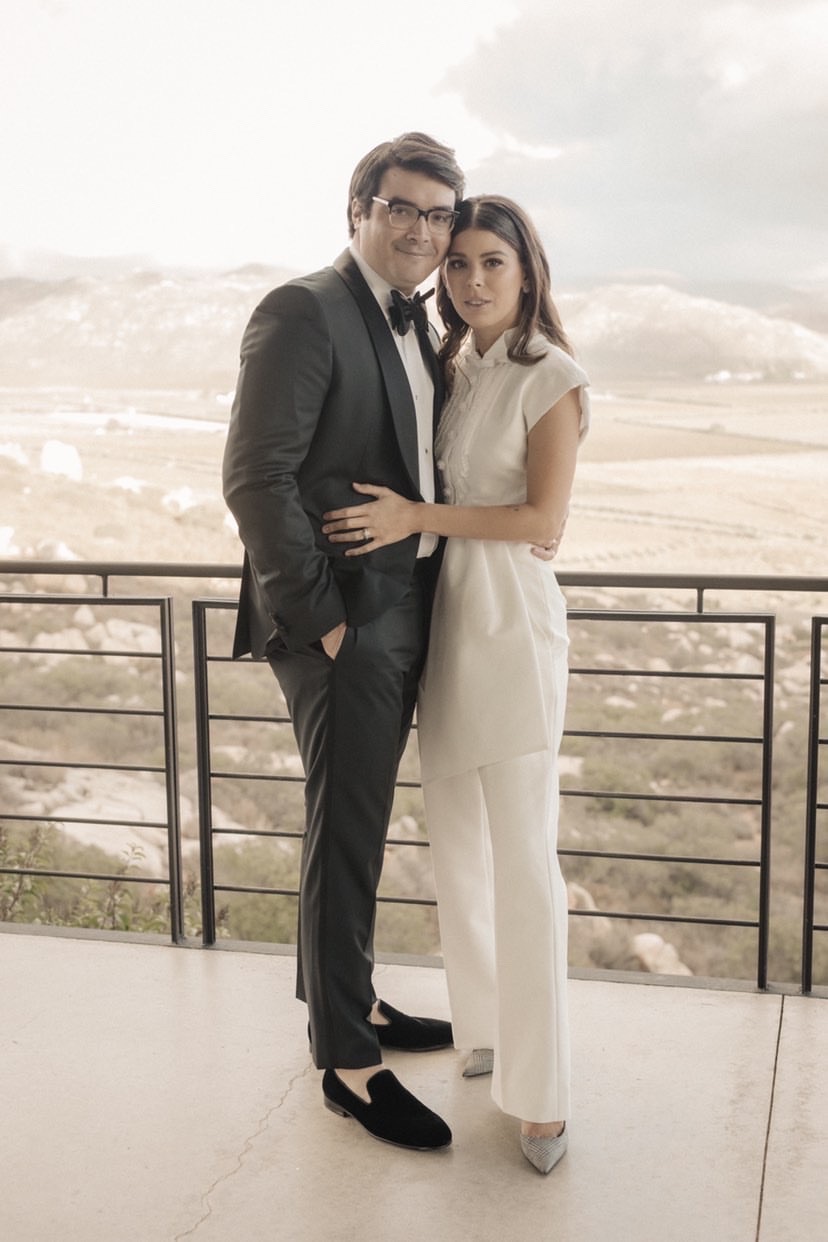 Would you wear a jumpsuit on your wedding day? We love it when a bride breaks the rules! This week we talk with Browns Bride Real Bride, Valeria who rocked a Viktor & Rolf Jumpsuit on her big day! Valeria and Carlos married last November in the wine region of Vallé Guadalupe, Mexico. Click below to read more about Valeria's awesome outfit and how even if some things don't go as planned on your wedding day… it'll all be alright on the night!
Let's start from the beginning, how did you first meet your husband?
Before we officially met, we knew about each other because Carlos's cousin is my father's godson. My parents are very good friends with his aunt and uncle. We both studied at American University in Washington, DC and we took an International Business class together, by pure chance. That's when we officially meet, past simple hellos and goodbyes. We were both assigned to the same group for a group project and started spending some time together.
Photgrapher: Sergio Sandoná @sergiosandonaphotos
When did you get engaged and how did it happen?
We did a three year long distance while Carlos was in law school in Chicago and I was in grad school in Italy. We both graduated that summer and decided to move back home to Puerto Rico. We love to travel and explore new places so we went to a beachtown in the island for what I thought would be a typical weekend getaway. That's where he proposed. It was a surreal experience and we barely remembered what happened.
Photgrapher: Sergio Sandoná @sergiosandonaphotos
How did you find the wedding planning process? What were your biggest priorities?
We did a destination wedding in one of our favorite places in the world: the wine region of Valle Guadalupe, Mexico. I thought that a destination wedding would be more stressfull and complicated to plan, but it was the complete opposite. I organized and planned everything and just hoped it would turn out as I pictured it and at the end some things turned out as I imagined them, others didn't, but the wedding was incredibly special. It felt very organic and easy! Let's just say that a lot of things went wrong but in the end we laughed it off. Our wedding planner broke his leg the day before the wedding, the master of ceremonies didn't make it so Carlos's cousin improvised and officialized the wedding. The venue was outside and it was raining and chilly. But 10 minutes before the ceremony the sun came out!
How did you find your perfect dress? (or in Valeria's case – jumpsuit!)
I always knew I wanted a Viktor and Rolf! I tried on many wedding gowns and other brands but ever since I saw that jumpsuit I knew that was it. It felt very me. I just felt very comfortable in it, the most important thing when choosing what I was going to wear is that I didn't want it to feel costume like or over the top. I wanted to feel beautiful, at the end of the day I wanted to look like myself and look as close as I look everyday because that's the person that he is marrying – I didn't want to feel dressed up or to much. I think its important to look your best without looking like you tried to dress up as a bride – simplicity and effortless is the look that I was going for.
Photgrapher: Sergio Sandoná @sergiosandonaphotos
What is your most cherished memory from your wedding day?
There are so many special moments that happened during that day, but my favorite one was laughing with my husband while getting our photos taken. There was no one around just us and the photographer and it was honestly the best time. During the wedding day you're so busy trying to spend time with everyone but those few minutes by ourselves were definitely the best. We had time to laugh and talk and tell each other everything that had happen earlier that day, while we were both getting ready for the wedding!
Finally, what advice would you give to future brides who are planning their weddings?
"It doesn't have to be "perfect" At the end of the day what matters the most is that you enjoy every second and appreciate that everyone is so happy for you. Thankfully I was so excited that I didn't have time to focus on the things that could go wrong, It wasn't until the next day that I realized some things where missing and they weren't necessary. I wouldn't change absolutely anything about my wedding, I enjoyed every minute and would recommend everyone to the same!
Photgrapher: Sergio Sandoná @sergiosandonaphotos
Don't miss our exclusive Viktor & Rolf Mariage Trunk Show on August 28th – 29th where you will be among the first to see the latest Spring Summer 2021 Collection.
Click here to book your exclusive appointment.
Browse our full Viktor & Rolf Mariage Collection here.
Jumpsuit: Viktor & Rolf Mariage
Photographer: Sergio Sandoná