VITA AND OSCAR – BROWNS BRIDE REAL WEDDING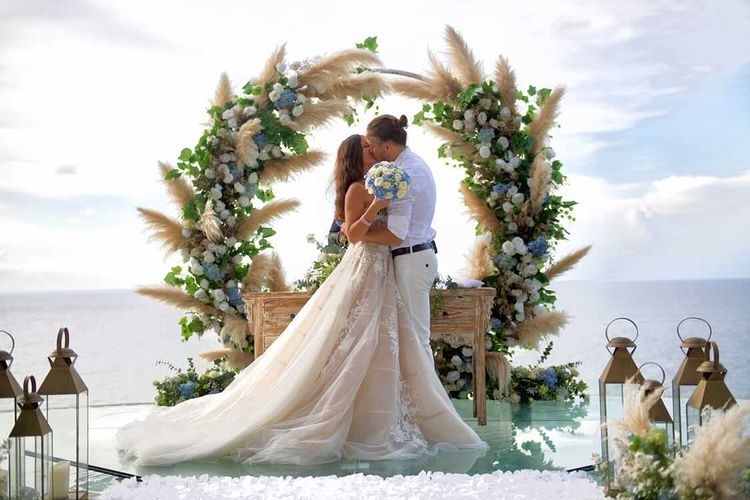 This week we whisk you away to Bali where a whirlwind holiday romance fast became a real-life fairy tale. Click below to read all about Vita & Oscar's big day and how sometimes the stars really do seem to align for some lucky souls…
Ah, to be travelling again! Whilst we remain in Lockdown 3.0 dreaming about our next holiday and what it feels like to have sand between our toes again, we thought we'd take you away virtually to Bali this week. Our beautiful Bride, Vita – wore Galia Lahav for her wedding to Oscar. A wedding so destined to happen it couldn't even be stopped by a global pandemic.
Hi Vita. Let's start from the beginning, how did you first meet your husband?
Well, we're do I start? We actually have a real fairy-tale story so get comfortable… Me and Oscar met in Bali 2 years ago. I was actually out there on a rebound holiday with a friend, as I had just broken up with my boyfriend of 10 years. I needed to clear my head so I decided to go and chill out for couple of weeks and do some yoga and meditation in Bali.
I had heard so much about Bali and how spiritual it was and it sounded like a perfect place for me to reconnect with myself and think deeply about my life now that I had suddenly found myself single after 10 years.
We arrived on 26th December 2018 and 2 days later I met Oscar. I was sat outside a shop drinking a coffee suffering from massive jet lag without a scrap of makeup on my face. Oscar had just been in a motorcycle accident and came to sit at the table I was on as he'd hurt his leg.
I initially thought he was Australian with his surfer-style hair but when he spoke to me, I realised he was Russian. We started chatting and swapped numbers, and with a little bit of chase (from his side of course) – my 2 weeks in Bali turned out to be a full-on holiday romance instead of the yoga retreat that I've had planned. It was magical from the day we met. We still say that it felt like all the stars aligned for us and it was the best holiday of our lives. We were both so upset when the holiday had to come to an end; I had to go back to London and he was going back to Moscow shortly after.
We spent the next 3 months chatting non-stop on video calls, trying to make the long-distance work. After 3 months he surprised everyone when he decided to sell his business in Moscow, and move to London to continue our Bali love story. Everyone was in shock… Including myself!
When did you get engaged and how did it happen?
Two weeks after Oscar moved to London, he organised a surprise getaway to the Caribbean. As we hadn't seen each other in over three months he wanted to spend a-lot of quality time together and despite the fact I had no idea, he had a proposal on his mind. He had already bought a ring in Moscow and told his parents of his plans.
He proposed to me the 19th April 2019 on the beach of Saona island Caribbean surrounded by exotic palms and turquoise blue Ocean. It was a massive surprise for me as I never expected something like this to happen so soon after only having known each other for four months. So, our Caribbean getaway turned out to be a two week long celebration of our engagement.
How did you find the wedding dress process? What were your biggest priorities?
After our engagement we straight away knew that the wedding would take place in Bali, where our love story began. We set the date for 12th April 2020 as we knew we wanted at least a year to plan the wedding.
To go from being unhappy in a relationship for 10 years to suddenly organising my own wedding 4 months later was just crazy.
It was like a dream come true. I wanted to pinch myself at times to check if this was really happening! I was on cloud nine.
I guess you could say that Oscar was the perfect groom, he let me plan every detail the way I wanted. Because the wedding was so far away and intimate, we knew we could go a little wild with the planning!
I knew exactly what I wanted; a wedding set on a cliff, overlooking the water with panoramic views and incredible sunsets. We booked everything from beautiful flowers to fire dancers and even a magician. We only wanted our closest family there, so we invited around 30 people. They were all travelling from different countries; my family from Lithuania, Oscar's family from Russia and other friends and family coming from the UK and USA.
…Then coronavirus happened. Just days before we were due to fly out for our wedding all of our flights got cancelled. The international lockdowns meant that people could not fly out from other countries, the whole wedding was cancelled. I felt like the princess who turned into pumpkin overnight – I was absolutely devastated.
In the end, we moved the wedding date to the two year anniversary to the day we met, 28th December 2020. This time the wedding was just for the two of us. I was of course sad that our families weren't there with us – but we honestly had the most amazing day. Just me and him under the most magical sunset in Bali where it all began. It was the most beautiful day of our lives.
How did you find your perfect dress?
The wedding dress search was a struggle. I tried so many dresses on in London from dozens of different designers. I even flew to Lithuania – thinking that going shopping with my sisters over there would make it easier to make a decision.
I started to feel really deflated because I wasn't getting that "Wow. This is the one." feeling you're supposed to get. So many brides say that the minute they put the right dress on they knew this was the one. There were lots of gowns that I liked, but not any that I loved.
Then I saw this amazing picture of a bride on Pinterest and discovered that she was wearing a Galia Lahav gown. From the pictures I've decided I needed to try this one on. I immediately made an appointment at Browns Bride and tried on five Galia Lahav dresses. 
I knew straight away that I would be a Galia Lahav bride. I just loved everything about them; the fabrics are to die for and I loved that they made me feel like a princess but would still fit the beach vibe of our wedding.
By the time I put the third dress on I knew this was the one. I just looked like a real princess and felt it. All the girls in the shop were saying how amazing it looked – so there I was with my perfect dress.
"The feeling" everyone talks about finally found me. I hardly slept that night thinking about the dress. I knew this was it.
What was your favourite memory from your wedding day?
My most cherished memory was walking down the aisle and seeing Oscar looking at me smiling with tears of joy in his eyes! It had been an incredible journey to get to that moment and we both felt we made it. Even without our loved ones and with all the madness in the world, here we were in love giving our lives to each other.
What advice would you give to future brides planning their wedding?
My first advise would be not to rush the planning. Give yourself enough time to organise your wedding day so you can have it how you always imagined It.
I think at heart, we all are princesses and we should all look forward to this amazing day in our lives. We all deserve that fairy-tale story, so when it comes – just enjoy every moment of it!
Also give yourself enough time to search for the right dress. The dress is so important; from how it will make you feel on the day to all the pictures and memories that you will have for the rest of your life.
I think you if you look incredible, you will feel incredible. At the end of the day, it's all about you and your husband and the memories you will cherish for a lifetime.
Enjoy every moment from planning it to the actual day, take loads of pictures and videos.
Every memory I have and all the pictures and videos from the day put a smile on my face every time I watch them. I wish I could relive our big day over and over again. 
If you want a dreamy fairy-tale gown like Vita's, book an appointment to come in store and try on our collection.
Don't miss our Galia Lahav Trunk Show – April 15-17th  | Appointment only.
Vita's gown: Alma by Galia Lahav
Photographer: @gusdephotography