VIVIENNE WESTWOOD LAUNCH AT BROWNS BRIDE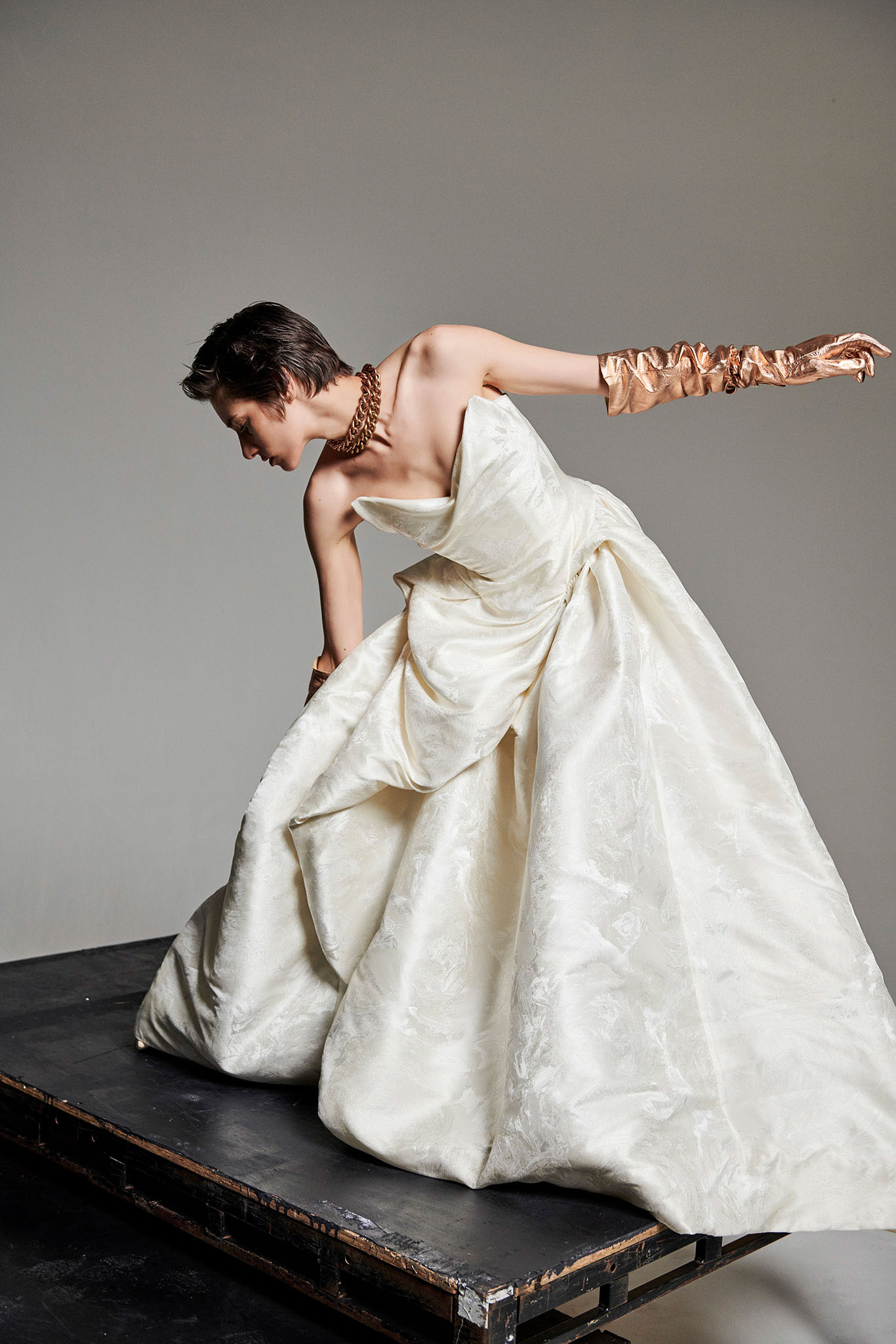 On October 10th 2019 we celebrated the launch of the Vivienne Westwood Made-to-Order 2020 Bridal collection with an exclusive preview of the collection, at 12 Hinde St. Browns Bride will exclusively carry the distinctive Made-to-Order collection in the UK* and be the first stockist outside of Vivienne Westwood's Couture and Bridal boutique at 6 Davies St to house the collection.
Browns Bride will stock the Vivienne Westwood Made-to-Order 2020 collection – which encapsulates the quintessential Rose garden. Rose iconography has been used in English culture, art, literature and religion for centuries, as a heroic timeless icon of beauty, strength and love. The collection is centred around the Vivienne Westwood archive rose print which features in a soft grey and pastel interpretation, modern corsetry influenced by the 18th century sculpts the gowns, whilst the structured drapery and multi-tier skirts are reminiscent of falling petals found in a flourishing English garden.
"We are delighted to announce that Vivienne Westwood have chosen Browns Bride to be their sole UK partners for their SS20 Bridal collection.
Vivienne Westwood and Browns both emerged from the same era, each contributing to the future of British fashion – with Vivienne Westwood who is globally recognised as an iconic designer and activist, and Browns as the retailer famous for discovering emerging talent since the 1970's. By partnering with Browns Bride, Vivienne Westwood can guarantee quality and inimitable service from our team of bridal experts. Together we can offer today's modern Bride iconic design and fit, coupled with a truly genuine British Bridal experience."
– Caroline Burstein, founder of Browns Bride.
Presenting 8 styles from the Vivienne Westwood 2020 Made-to-order collection, Browns Bride's will showcase delicate fabrics detailed with English flora and key design notes from the Vivienne Westwood atelier, the semi-couture styles use traditional tailoring techniques, combined with historical and experimental pattern cutting. Column gowns are presented in delicate white sequin, silk cady or a Grand Roses custom print on pearl silk satin or shimmering gold lurex. Whilst more dramatic A-line gowns are presented in a clean white structured fil coupé rose jacquard, antique ivory mikado, glimmering briné satin or a tonal ivory abstract rose jacquard.
The collection is designed with an environmental conscience, select gowns are available in sustainably sourced Viscose as a vegan alternative to silk, satin and crěpe. Organically produced eco-friendly and cruelty free Peace Silk which allows the silk butterfly to live beyond the cocoon, features across four column gowns in the collection – denoted with a white bow on the inside of each gown.
Vivienne Westwood made-to-order bridal gowns are created especially for each bride in a selection of seasonal fabrics and silhouettes. The semi-couture nature of the collection ensures that each gown is expertly tailored to the bride's body, by the highly skilled Vivienne Westwood and Browns Bride couturiers in London.
 To book an appointment to try on the newest Vivienne Westwood Bridal Collection – please call us on 020 70 34 1400 or alternatively you can email us at enquiries@brownsbride.com