VIVIENNE WESTWOOD TRUNK SHOW | JANUARY 18-23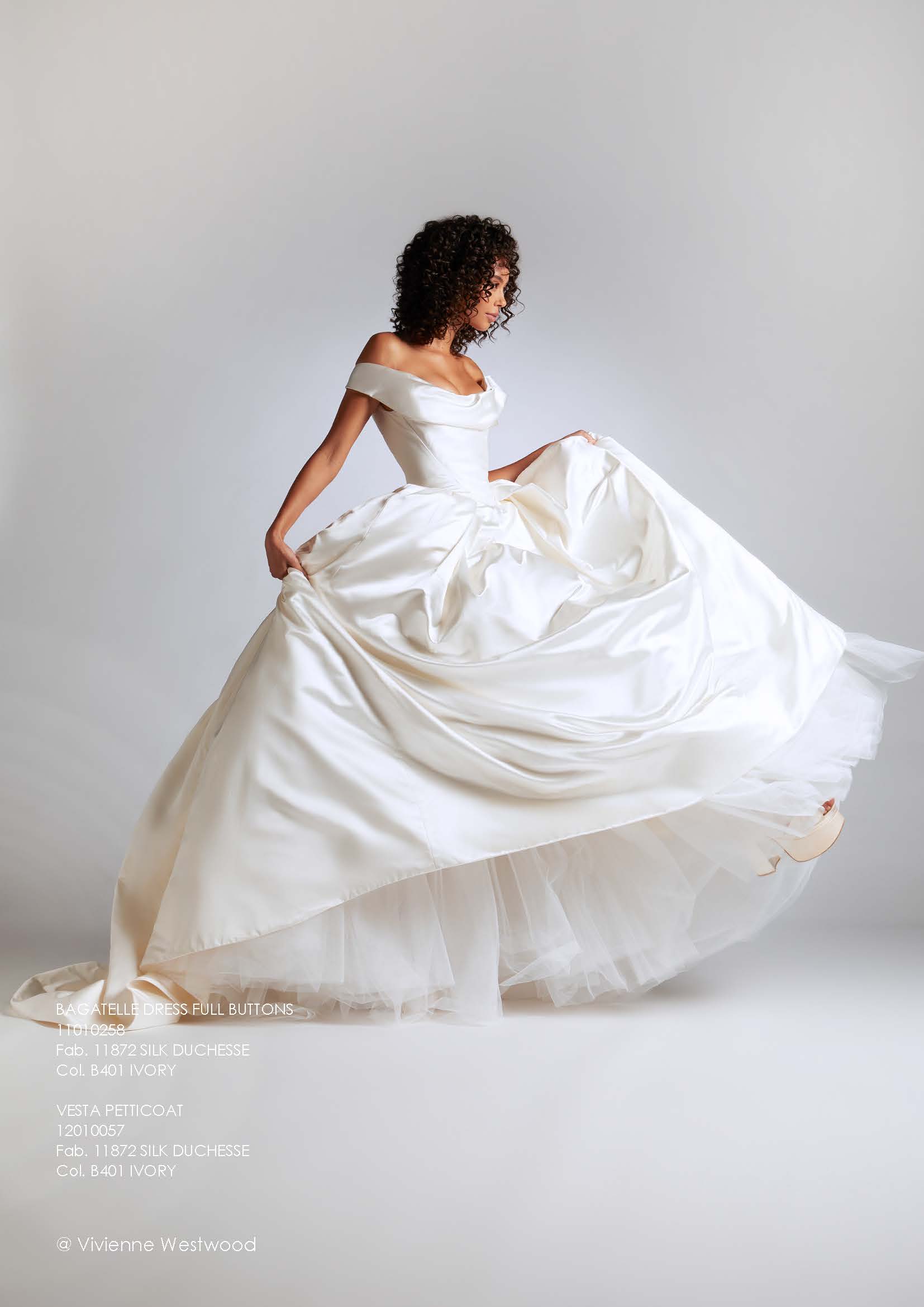 We are so excited to debut the latest bridal collection from the one and only Vivienne Westwood. For five days we will be showcasing the entire Fall 21 Collection in our Marylebone boutique. Click below to see the full collection and read all about the inspiration behind it!
We are truly proud to be exclusive stockists of the Vivienne Westwood Made-to-Order Bridal Collection and we are delighted to announce our upcoming Trunk Show in January. With an emphasis on sustainability, the Made-to-Order Fall 21 Collection features iconic Vivienne Westwood silhouettes inspired by 25 years of couture at their atelier. Throughout the collection you will see the signature avant-garde tailoring, for which Vivienne Westwood is renowned, along with the experimental pattern cutting and eco-friendly fabrics.
'Each piece is reminiscent of a significant moment from the Vivienne Westwood archive and her development as a master couturier'
The new collection is as versatile as it is iconic. The Made-to-Order collection features so many adaptable elements which help to transform the bride's look throughout her day. Expect to see dramatic boleros, flowing capes, iconic overskirts and detachable sleeves – each of these accessories allow the bride to put her own stamp on a Vivienne Westwood gown.
Not only are the fabrics to die for, there is a heavy emphasis on sustainability in the Vivienne Westwood Fall 21 Collection. All of the gowns have been designed, sampled and created in England – giving assurance to brides who are conscious of their carbon footprint and environmental impact. We are seeing the return of the Peace Silk and an introduction to vegan alternatives to silks and recycled fabrics (As seen in the Tiny Stars Jacquard fabric which is made from recycled polyester).
"The Made-to-Order 2021 collection includes; the Ball Tie with a graceful georgette or delicate lace detachable cape and the Leia corseted gown in silk taffeta or a custom recycled polyester jacquard, with a layered high slit and sweeping train creating drama worthy of a Venetian carnival. The Bagatelle dress and corset top are inspired by the Spring-Summer 1997 collection Vive La Bagatelle; in taffeta, silk duchess or Absence of Roses duchess. The romantic neckline is sculpted as draped fabric sweeps across the shoulder, anchored to an eighteenth century inspired flat corset."
Seeing this collection is the most marvellous example of past combined with future; we are witnessing a fine example of how historical design can be  combined with modern ideas and practices. When purchasing a wedding dress from this collection, a bride can rest assured that her gown will stand the test of time; not only in it's classic design but also on it's environmental impact. Henceforth, we believe that's what makes this collection the most timeless of them all.
All the gowns featured below will be in store to try on from January 18th – 23rd. Click here to book your appointment for this exclusive event!